UK
Azad Kashmir president puts UK premier on notice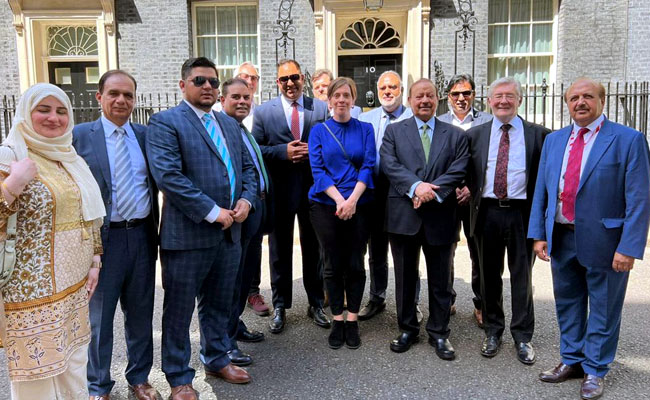 LONDON – Azad Jammu and Kashmir (AJK) President Barrister Sultan Mehmood Chaudhary on Thursday led a delegation of Kashmiri diaspora and their allies to the UK Prime Minister's Office apprising the British government of situation in Indian Illegally occupied Jammu and Kashmir (IIoJK).
The delegation submitted a petition in the office of the UK prime minister seeking immediate intervention by the British government to halt war crimes happening in the IIoJK.
The AJK president was accompanied by Fahim Kayani, president Tehreek-e-Kashmir UK, Imran Hussain, British MP; Jess Phillips, British MP; Lord Qurban Hussain; Khalid Mehmood; Tony Lloyd, British MP, and other Kashmiri human rights activists who submitted the petition at 10 Downing Street, London.
"Kashmir is case of broken promises," said Chaudhary. "The UK has an important role to end the illegal occupation of IIoJK and hold India accountable for the crimes against humanity which the Indian military regime is committing in IIoJK."
He said no sustainable peace is achievable in not just in South Asia but in whole region until illegal occupation of IIoJK is ended.
"India is neither provider of security nor stability in the region as it is the biggest violator of international rules and UN resolutions by trampling upon the right to self-determination of Kashmiris in IIoJK," said Chaudhary.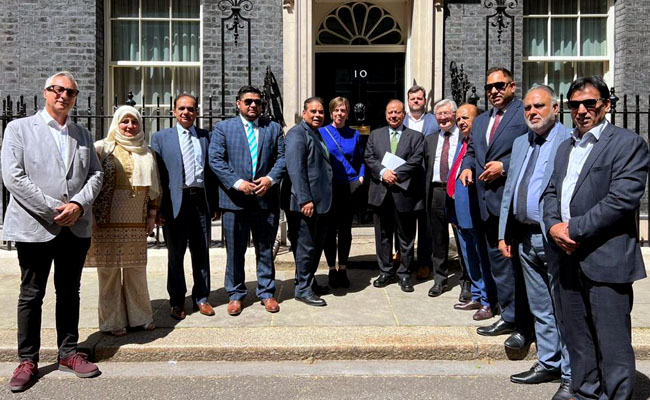 The petition submitted in the office of the UK premier discussed in detail the cases of war crimes, crimes against humanity, ban on Falah-e-Aam Trust , Yasin Malik sentenced to life imprisonment by Indian kangaroos courts , illegal; abductions and arrests by Indian forces, fake cases and fake trials, mass graves and attempts to artificially change demography and how graveyard silence through the barrel of gun has been enforced in the IIoJK.
Kayani, whose Tehreek-e-Kashmir UK, initiated the petition, said that constant diplomatic efforts and lobbying "is more important than ever before."
"The changing geo-political situation in Asia-Pacific demands that Kashmiris, state of Pakistan and their allies intensify their efforts to expose India's brutal face" said Kayani.
"It is important to remind western capitals that India is not and cannot be their ally while it illegally, through its military might, occupied IIoJK,' he said.
Kayani said British Kashmiris contribute "a lot to the plural society" in the country.
"The democratic credentials of the UK allow it to become voice of the voiceless Kashmiris and uphold human rights and do away with strategic, military and political interests by calling out India over Kashmir," Kayani said.