UK
Regeneration scheme breathes new life into site of historic Birmingham factory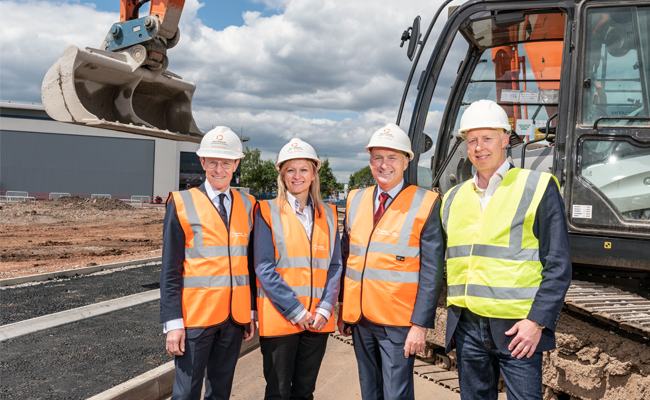 The site of one of Birmingham's most famous factories is being be given a new lease of life, creating at least 350 new jobs.
Around eight acres of vacant land off Formans Road in Tyseley, once home to the landmark Joseph Lucas car battery plant, is now being transformed into a new 21st century industrial park.
Developer A&J Mucklow Group is building eight industrial units with support from Birmingham City Council, the Greater Birmingham and Solihull Local Enterprise Partnership (GBSLEP) and remediation funding from the West Midlands Combined Authority (WMCA).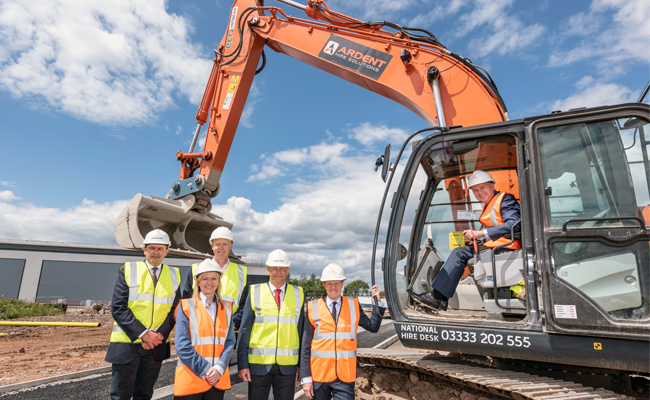 From left: Nick Heath (Mucklow), Katie Trout, Nick Oakley, Mark Vernon (Mucklow), Mayor Andy Street and in the cab Cllr Ian Ward
The units are just the first phase of a larger 19-acre, £40m regeneration project for the site which has stood empty since the factory closed in 2006.
Work is also nearing completion on a new road called Battery Way which is being built by the city council to serve the new industrial park. The road is being funded by £3.71m from the GBSLEP.
Mayor of the West Midlands Andy Street and Cllr Ian Ward, leader of Birmingham City Council, were given a tour of the site by Mark Vernon of Mucklow to see the progress being made.
The Mayor said: "Generations of Brummies worked at the Lucas battery plant and its closure would have been seen by many as another example of the city's industrial decline.
"Yet the regeneration now taking place on this site is a reflection of the wider economic renaissance we are experiencing in the West Midlands. This has seen us re-establish ourselves at the leading edge of automotive manufacture, not least in the development of next-generation battery technology for electric vehicles.
"So this site's transformation is a great example of how the WMCA, the city council and GBSLEP can use their powers and funding to help developers like Mucklows unlock former industrial land for developments that bring new jobs and homes for local people."
Coun Ward added; "This exciting regeneration scheme is about so much more than the redevelopment of one of Birmingham's most historic industrial sites – it's yet another example of how we're investing in Birmingham's future.
"We're creating industrial jobs for the 21st Century and creating the perfect conditions for SME's to thrive across the city. By working together, the City Council, WMCA and GBSLEP are helping to create hundreds of new jobs and building a bright future for the former Lucas battery plant site."
The largest of the eight units, at 60,000sqft, is due for completion in August and has already been pre-let by Decora Blinds.
Mr Vernon said the remaining seven "best in class" units, ranging between 5,000sqft and 14,000sqft would be ideal for SME businesses and would be completed in September.  He further commented; "It is a very exciting time for Mucklow following the recent announcement that our business is being acquired by LondonMetric Property Plc which is focussed on the ownership of logistics and industrial property throughout the UK."
The WMCA's Brownfield Land and Property Development Fund (BLPDF) has provided funding to support the scheme, and is one of several funds allocated towards the remediation of former industrial sites, in order to support the WMCA's 'brownfield first' approach which is aimed at relieving pressure on the Green Belt.
The BLPDF is part of a wider £760 million war-chest set aside by the WMCA to support new housing and commercial developments within the region.
Katie Trout, director of GBSLEP, said: "We're delighted to have played our part in providing better access to Mucklow Business Park through the Battery Way extension, and to see this land with such a strong industrial heritage be brought back into use to support further growth of our burgeoning industries.
"Improving accessibility to the park will develop a site that has the potential to attract a wide range of private sector investment and create new skilled jobs for local residents. The project will also help to accelerate other development opportunities, unlocking and supporting economic growth in Tyseley and the wider region.
Nick Oakley, Frontier Development Capital, investment director for the BLPDF, added: "We are delighted to have worked with Mucklow on the regeneration of this key employment site, it's another example of the funds making a significant impact accelerating redevelopment and job creation right across the West Midlands region."