UK
Birmingham Pakistani & Kashmiri journalists united for their rights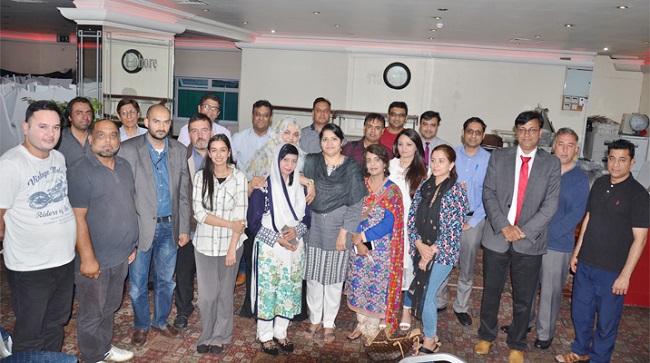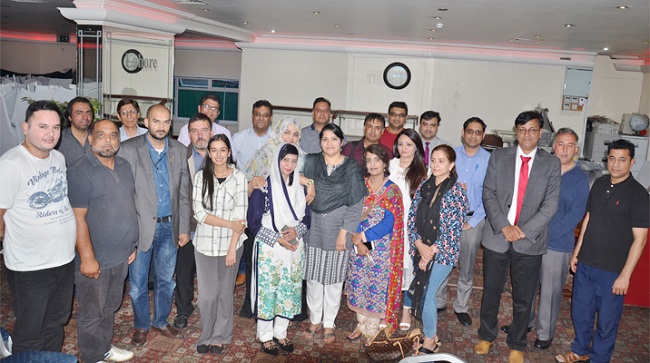 Birmingham: A meeting of prominent Pakistani journalists working within the broadcast fraternity TV , radio , print and new media convened for a special meeting organised by members of the National Union of Journalists Birmingham and Coventry branch Chairman Mr Tony Adams and included  ( Mohammed Ayyub MBE Star Oriental Agency UK, Mohammed Basharat Abbasi Deputy Editor Daily Ausaf Pakistan,Stalingrad ONeill Branch Secretary National Union of Journalists (NUJ) Birmingham & Coventry, S M Irfan Tahir Director World News TV UK, Presenter Noor TV Sky 812 & Photojournalist National Union of Journalists (NUJ) Birmingham & Coventry Branch, Sardar Zia Mahmood World News TV UK, Mrs Sumaira Farrukh TV Anchor , Dilshad Bano Member NUJ, Shazma Javed Equality Officer NUJ Birmingham and Coventry Branch, Saima Haroon Geo News, Rubab Malik Radio XL, Kishwar Abbasi Roze TV, Shahla Gull Ambur Radio, Rabnawaz Chughtai Daily Ausaf Birmingham, Imran Khalid ARY NEWS TV, Zahid Khattak C-44, Imran Munawar Geo News, Syed Abid Kazmi Hadayat TV , CNI News Network & Daily Urdu Times UK, Abrar Mughal Geo News TV Birmingham, Raja Nasir Mahmood Dunya News TV Birmingham, Mohammed Basharat, Mohammed Taimoor Sama News TV, Mujtaba Rehman KITV & Shakeel Dar)
The meeting was used as an open platform to discuss the issues that face journalists working within the region, and the wider issues of the lack of governance and policies for not being in place. by some media institutions including independent press clubs and consider the pending issue of and grave concerns of one of its fellow member and colleague Mr Irfan Tahir (photojournalist)
Irfan Tahir is a legitimate photojournalist and a core member of the national Union of Journalists, his investigative reporting on a broad spectrum of subjects including community cohesion and anti-extremism is widely recognised and respected, he has a right to work in a free democratic environment adhering to the national Union of Journalists code of conduct which set out the core values that approx. 30,000 members throughout the UK abide by.
Pakistani press at the meeting recognised much more had to be done to regulate the industry but also to protect the rights of freelance journalists from all sectors (male and female) and free from discrimination, but also acutely aware freedom of speech, and freedom of expression were vital components in a democratic society and the importance to cover a broad spectrum of subjects on behalf of the local community especially sensitive issues, were equally important.
Members of the meeting were informed the seriousness of the systematic online abuse targeted at Irfan Tahir an NUJ member and a serious sexual assault allegation that has been used against him , on social media platform(s) as deeply concerning, defamatory remarks and concerted efforts of character assignation, The NUJ will not tolerate any form of harassment and will seek legal guidance to protect its members and seek criminal prosecution.
The rights of journalists were fundamental and had to be recognised, members of the meeting were resolute that any form of harassment would equally not be tolerated and were encouraged to hear that the NUJ were at the forefront regarding equality and diversity and an opportunity to attend prospective meetings to learn more of the wider benefits within the union and its members.