UK
British Muslims Mohammed Zafran was awarded British Empire Medal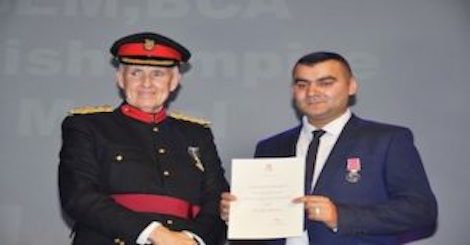 Birmingham:
A Special Award Ceremony took place in South City College of Birmingham where the British Empire Medal (BEM) was presented to Mohammed Zafran CEO All 4 Youth & Community by the Representative of British Queen Vice Lord Leftenant Colonel George Marsh assisted by Cadet Flight Sergeant Seun.
Many guests attended to celebrate and witness Mohammed Zafran be honoured for his incredible work within the community.Special Attendance By Thomas McGeever Director at All 4 Youth & Community ,Hadeba Shah Manager at All 4 Youth & Community, Paul Morris Assistant Principal at South & City College Birmingham.
Abdullah Rehman CEO Balsall Heath Forum ,Nazir Awan ,Saqib Bhatti ,Tony Adams Chair of NUJ Birmingham & Coventry Branch , Councillor Mohammed Aikhlaq,Shana Owen, Camren Khan ,Mo ,Habib Rehman , Khalid Karim ,Eric Mitchell , Davinder Prasad , Yasmeen Alam ,Abid Khan ,Qamar Khalil ,Ghazanfar Mahmood , Mohammed Basharat and many others Zafran has changed the lives of 16 thousand youths and many community members through 100 amazing projects in his CIC All 4 Youth & Community.These projects were initially started following from the tragic death of his brother-in-law and then later his beloved sister.
This is an outstanding example of humanity where despite negative experiences in life positive results can follow.At this BEM presentation, performances of singing by Keegan Hammond and Poem reading by Hafsa Rehman also were enjoyed by all guests that attended.
Reported By S M Irfan Tahir Photojournalist National Union of Journalists (NUJ) Great Britain Birmingham & Coventry Branch United Kingdom.