Fashion
Cultural diplomacy through Pakistan Fashion Week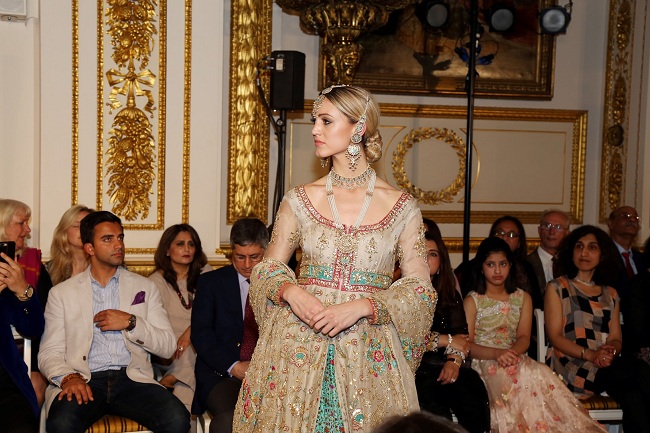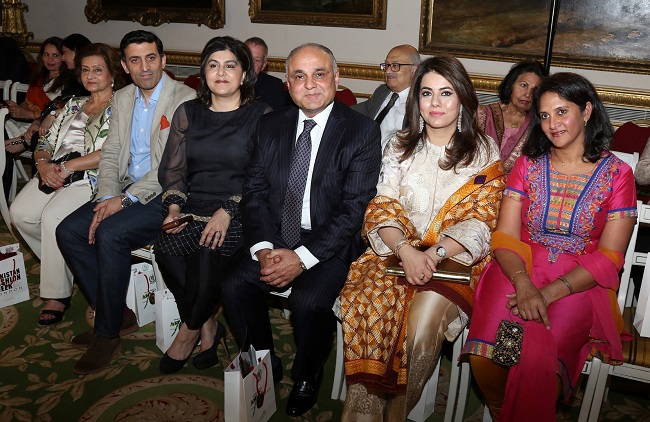 Pakistan's cultural diplomacy was at its best at Pakistan Fashion Week, held at London's historic Lancaster House this weekend. This prestigious venue witnessed the first Pakistani celebration of fashion in its two hundred years history. A large number of Diplomats from London based Diplomatic Missions, Parliamentarians, leading fashion designers, representatives of media and a cross-section of the British society and diaspora were in attendance.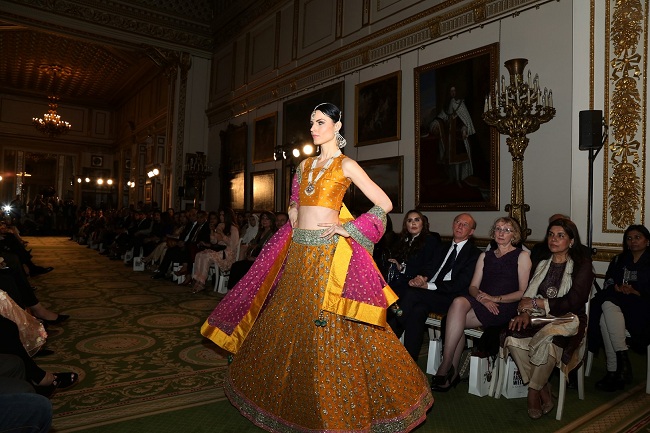 The event was jointly organized by the Pakistan High Commission London and Riwayat on the 20th and 21st May, 2017, with over forty of Pakistan's leading and emerging designers presenting their latest collections. Umar Saeed, Shameel Ansari, Sana Safinaz, Maria B and Maheen Khan headlined with leading Pakistani models Fouzia Aman and Eshal Fayyaz walking the ramp.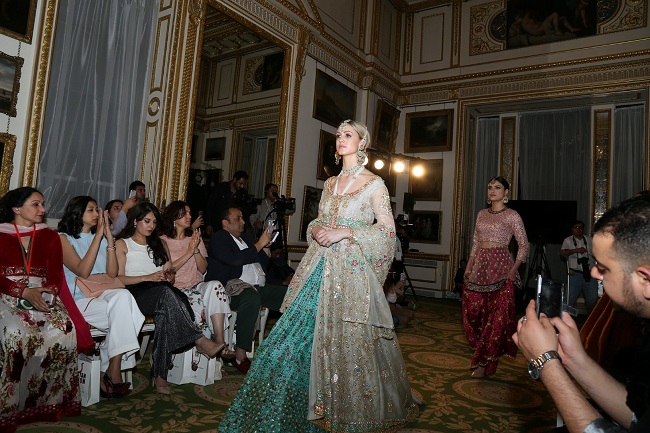 The Pakistan Fashion Week was one of a series of events planned by the High Commission to celebrate Pakistan's 70th Independence Anniversary.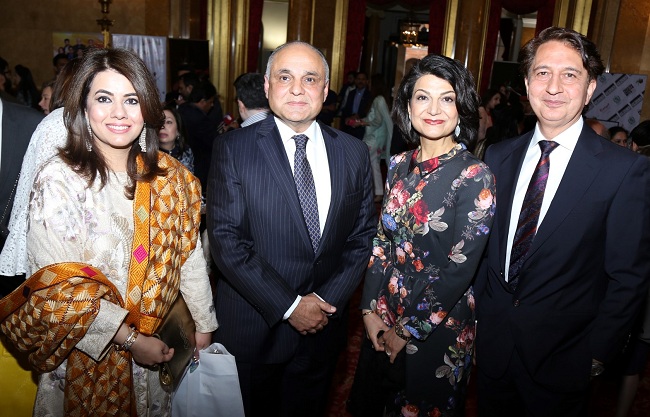 Speaking at the Lancaster House, H.E. Syed Ibne Abbas, the High Commissioner said: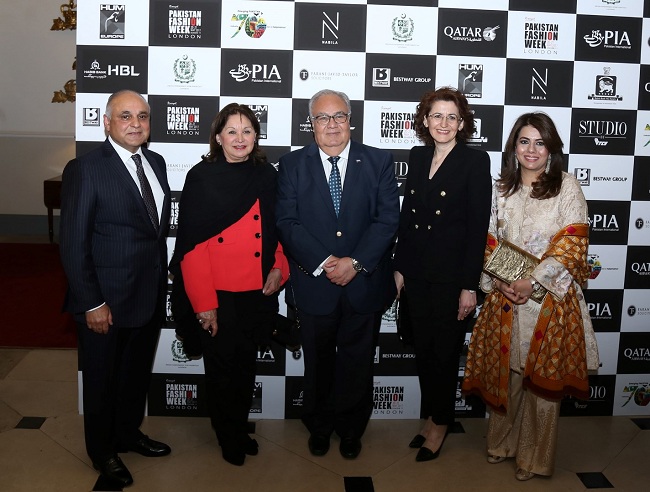 "This represents the cultural diplomacy of Pakistan at its best. Today we have seen an exquisite display of Pakistan's flourishing fashion and design industry, with leading designers and models present at this historic venue. The Fashion Week would not only introduce our beautiful culture but also promote our exports in apparel and clothing industry. It will also help create better understanding about our people and present the true image of our country."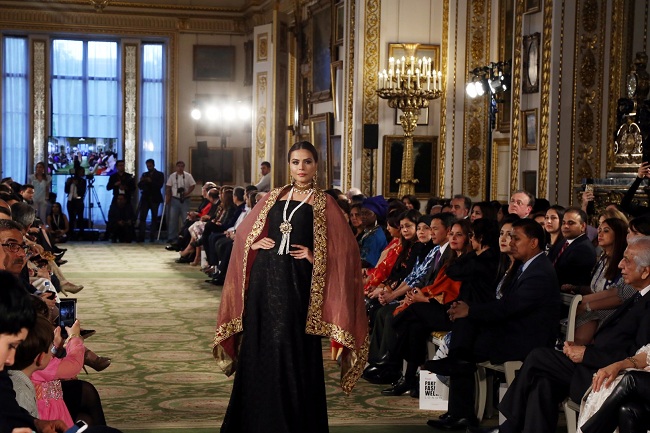 Designer MaazJee paid tribute to founding father of Pakistan Quaid e Azam Muhammad Ali Jinnah with a collection inspired by his clothing, whilst a fusion of east-west designs from Maheen Khan and Shameem Ansari stole the show.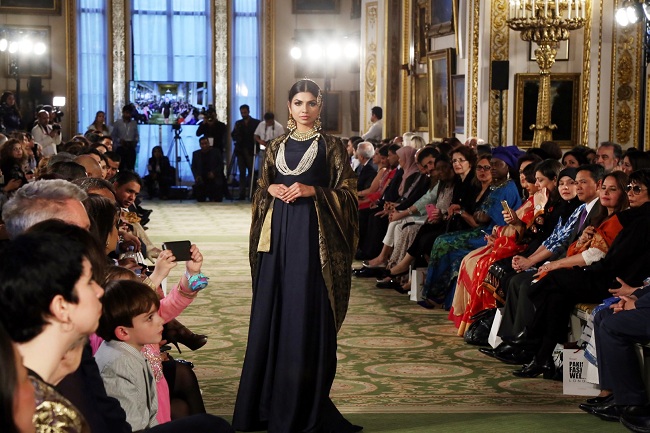 It was from Lancaster House that the Pakistani flag was sent to Pakistan's first ever Mission at Lowndes Square in London. How befitting for thousands of Pakistani's to return to Lancaster House some 70 years later to celebrate so much that is good about our country.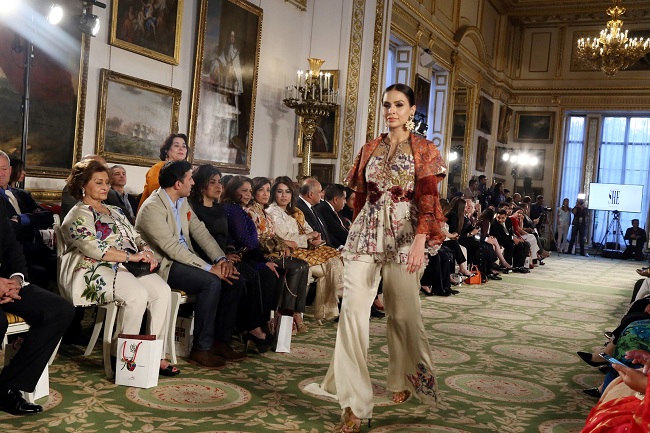 Over two thousand people registered for the event which saw a catwalk run through the three grand halls of the Royal Palace. A nine room exhibition allowed the guests to talk with the designers and buy from their collections.
Fashion industry constitutes exports millions of Pounds and is growing. Events profiling the leading names of that industry serve to challenge the current perceptions of Pakistan and increase the trading links between our two nations.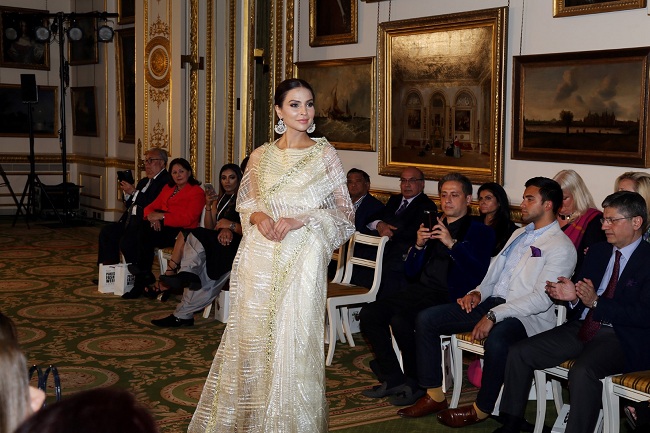 Adnan Ansari, Creative Director at Riwayat said: "It was a privilege to work so closely with the High Commission to deliver this hugely successful event. We are so proud of our Pakistan and so proud to present its best face on a huge platform in London."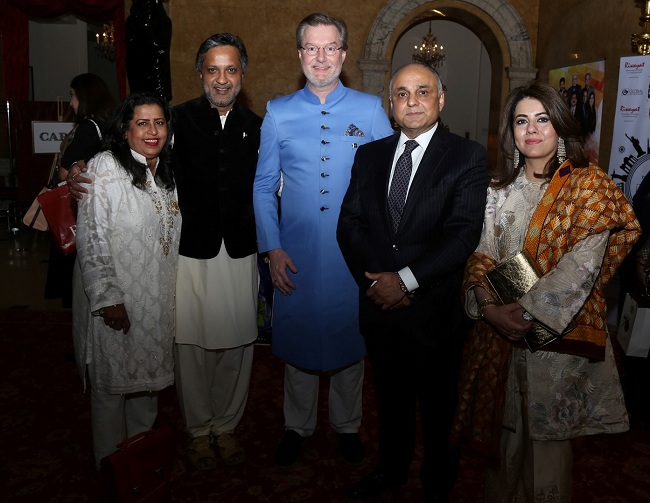 The complete list of designers is: SHAMAEEL ANSARI,HAMNA AMIR,AGHA NOOR,NOOR by SADIA ASAD,MARIA B,AISHA IMRAN,SADAF AMIR,MOAZZAM ABBASI,SHIRIN HASSAN, MAAZ JEE,SANA SAFINAZ,ZEESHAN BARIWALA,AYESHA AEJAZ,NIHAAN by AMNA BIBI,MIRAL,SANA FAROOQ, KHAAS,ASAALEH,SONIA MAHAJAN,AMOUR FAITH HOPE, AHMAD HASSAN,RIZWAN AHMED,MAHEEN KHAN,SHAZIA KIYANI,KJ JEWEELERS,AMINA BADAR,CHEENA CHAPARA, LAJWANTI,GOGI by HASSAN RIAZ,M COUTURE,DIVA by SANA RASHID,UMSHA by UZMA BABAR,CARA by IMRAN IKHLAQ, UMAR SAEED