UK
Dinner in Honour of the National Cricket Team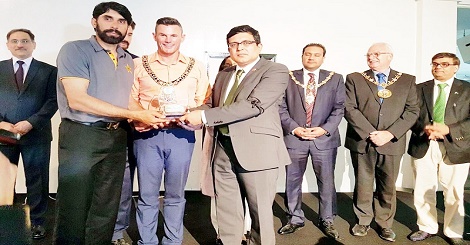 The Consulate General of Pakistan, Manchester and the Pakistani community
hosted a reception dinner in honour of the visiting Pakistani Cricket Team
in Manchester on 20 July 2016. The Pakistani Cricket Team is visiting
Manchester to play the second Investec Test Match against England at Old
Trafford Stadium.
The reception was attended by the Lord Mayor of Manchester Councillor Carl
Austin-Behan, the Mayor of Rochdale, Faisal Rashid Mayor of Warrington, MP
Yasmin Qureshi, MEP Afzal Khan, High Sheriff of Wigan, Lady and Lord Smith,
Chief Constable of Greater Manchester Police Ian Hopkins, Chairman Overseas
Pakistanis Foundation Amjad Malik, Chief Inspector Umer Khan and a large
number of members of British Pakistani communities and cricket fans.
Welcoming the team, the Consul General, Zahoor Ahmed called them the
national heroes of Pakistan and appreciated the superb performance of the
team at the Lords cricket ground which has made every Pakistani proud. He
said that the Pakistani cricket team has shown a true team spirit and
through their excellence in sports has added to the positive image of
Pakistan. Our cricket players have shown a great deal of discipline and
sportsmanship and are role models for the youth.
Consul General Zahoor Ahmed congratulated the team on behalf of the
Consulate and the Community on their historic performance at Lord's test
match and wished them best of luck for the upcoming matches. He also
presented a memento shield to the Cricket team which was received by
Captain Misbah Ul Haq.
A short film on the annual Pakistan parade Manchester and a documentary on
the history of Cricket in Pakistan were screened.
Speaking on the occasion, the Lord Mayor of Manchester appreciated the
contribution of the British Pakistani community to the British society. He
said that cricket is an important link between the two countries and the
Pakistani cricket team's visit to Manchester would further strerngthen
these linkages.
Speaking on behalf of the team, the Manager of the Pakistani cricket team,
Intekhab Alam highlighted the absence of international cricket from
Pakistan and said that it is high time that international teams should pay
visit to Pakistan as we have achieved great success in the war against
terror and Pakistan is a safe country to play cricket now.
The community was very excited to meet their national heroes and made most
of the opportunity by taking photographs and autographs with their
favourite players. On this occasion, leading businessmen announced a cash
prize of £10,000 on either getting five wickets or making 100 runs at the
Old Trafford Test Match on behalf of the British Pakistani community.