UK
Mashkura Begum responds to David Cameron's claim Prevent opposition is "enabling terrorism"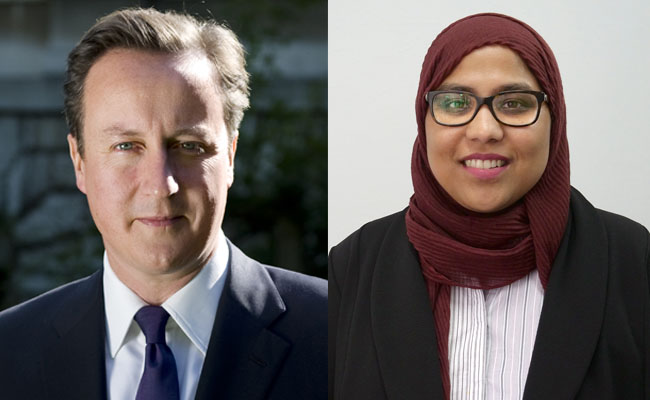 Mashkura Begum responds to David Cameron's claim Prevent opposition is "enabling terrorism"
Mashkura Begum, chair of Saathi House, has responded to comments from former PM David Cameron suggesting critics of the government's Prevent programme are fuelling terrorism and radicalisation

Mashkura Begum is one of many Muslim community voices calling for an urgent reform of the Government's flagship deradicalisation programme Prevent

David Cameron has made remarks suggesting critics of Prevent are fuelling extremism in a report by right-wing think tank Policy Exchange, as Home Secretary Priti Patel prepares to unveil an overhaul of the Prevent strategy

Last week, Mashkura appeared on Channel 4's 'Dispatches: Are We Losing The War On Terror?' programme, which focused on failures within the Prevent strategy that have led to an increase in terrorism and radicalisation
A BIRMINGHAM community cohesion advocate has denounced the views of former Prime Minister David Cameron, who has suggested opposing the government's Prevent programme "enables terrorism".
David Cameron has claimed people who oppose Prevent are fuelling terrorism but Mashkura Begum, who is openly critical of Prevent, feels Cameron's views are part of the problem, adding to a climate of demonising ordinary Muslims like her who challenge problematic strategies used to deal with extremism.
Standing fully against extremist violence and terrorism of any kind, Mashkura Begum believes the government's anti-terror Prevent programme has failed to stop radicalisation but instead has sown the seeds of suspicion and hate towards ordinary Muslims.
"The Prevent counter terrorism programme has always been seen as a divisive initiative. In recent years it would be fair to say Prevent is seen as a toxic brand and has done far more damage in tarnishing the reputation of the Muslim community than good.
"British Muslim citizens widely feel the programme has mainstreamed discrimination and has disproportionately impacted the community. Since the programme was introduced, it was perceived that it was solely targeting ordinary Muslims, the media's messaging was assigned to that common view. This has not helped with social cohesion and has further alienated Muslim groups."
In an outspoken attack on opponents of Prevent, former PM David Cameron said organisations attempting to "delegitimise" counter-terrorism work were "enabling terrorism".
In a foreword to a new report from right wing think tank Policy Exchange, Mr Cameron said: "In a country where everyone feels at home, there is no place for extremism. It sows division and hatred and threatens our very way of life."
He said: "I believe those who refuse to challenge the falsehood surrounding Prevent are guilty of a form of 'passive tolerance', whereby society fails to interfere in minority communities for fear of appearing racist.
"So just as we need to counter the Islamist extremist narrative, we need to counter the anti-Prevent narrative… to show that delegitimising counter-terrorism is, in essence, enabling terrorism."
His comments come as Home Secretary Priti Patel prepares to unveil an overhaul of the Prevent strategy which will strip local councils of control in an attempt to refocus on national security.
Mashkura Begum – chair of community empowerment organisation Saathi House, based in the predominantly Muslim neighbourhood of Aston – said she understands the need for a programme to tackle extremism and radicalisation, whether rooted in religion or far right ideology, but Prevent is not fit for purpose and so must be replaced with a better and fairer initiative.
"David Cameron is wrong. Our communities have always been eager and engaged to work with the government and authority in countering extremism and find alternatives that are more transparent, effective, and equitable; rather than the existing Prevent programme which is perceived as a government funded spy programme and has placed our teachers, lecturers, doctors and other professionals in a position to report on individual Muslims and groups. This has led to breakdown of trust and 'othering' of the community.
"The solution to tackling extremism is no longer the Prevent programme; unfortunately, it never has been, and the Government have been toned deaf to the Muslim communities' concerns.
"The Government could do vey little to build trust now and it would be ill advised to continue with Prevent in its current guise, the optics around it are too negative and in reality, statistics clearly demonstrate the programme has had very limited impact on countering terrorism and far right behaviour, hence is there an legitimate argument to continue with it?"
A part of the government's Counter Terrorism body, the aim of the initiative is to "prevent vulnerable people from being drawn into extremism". According to the policing unit, "the government-led, multi-agency Prevent programme aims to stop individuals becoming terrorists and police play a key role."
Last week, Mashkura appeared on Channel 4 Dispatches programme 'Are We Losing The War On Terror?' which explored failures in Prevent.
Speaking ahead of the broadcast, Mashkura said the government's anti-radicalisation failures had made Prevent dangerous, counterproductive and largely unworkable.
"Prevent is looking in the wrong places. There are a small minority of people from all walks of life and backgrounds being radicalised and gravitating towards acts of terror or terror related crime. Some of these individuals are flagged by concerned members of the community but have commonly been ignored by counter-terrorism officers.
"These individuals are often radicalised online, in prisons or abroad; not in our community centres, schools or average UK Muslim households. The government's anti-terror strategy has led to sowing seeds of suspicion and contempt towards the Muslim community and this has caused irreparable damage to how our children navigate and find their way in the world."
In her view, Prevent is damaging community relations while failing to address radicalisation and extremism in cities like Birmingham.
"Prevent has been a total failure, in fact one would say it's been toxic and should be scrapped.
"The whole reason that Prevent was brought into force was supposedly to safeguard citizens and identify those surreptitious individuals within our midst. It would be interesting to see whether we saw any decrease in terrorist activities as a result, we will wait.
"In reality, Prevent has played a role in damaging social cohesion and in particular has been instrumental in 'othering' the Muslim communities. Although Prevent was to tackle all forms of extremism, it felt like it targeted the Muslim community and isolated an entire generation.
"Mainstream media and general optics was that Prevent was to 'stop' Islamist terror. We rarely heard about far right extremism in the same breath as Prevent and therein lies the issue."
The Government says Prevent has deradicalised 3,000 individuals since 2006. But Jonathan Hall, its independent reviewer of terrorism legislation, told Channel 4 Dispatches: "There is no evidence that our deradicalisation programmes work."
REFERENCE: