Articles
The Devious Stratagem of Self-proclaimed Democracy behind the G20 Summit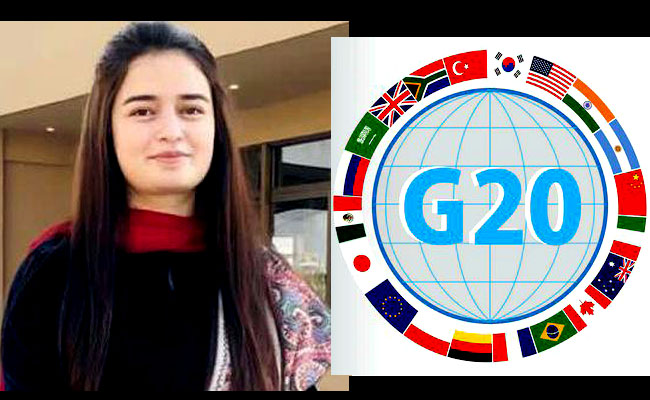 Written By: Shazia Khawaja
Srinagar has undergone a complete facelift in preparation for the G20 meeting, which will be held at the Sher-e-Kashmir International Conference Centre (SKICC) on the banks of Dal Lake from 22 to 25 May, 2023 and in New Delhi in September 2023. The Sheikh-ul-Alam International Airport has been adorned with rows of lamps illuminated in the green, white, and orange colors of the Indian national flag. The roads have been realigned, streets and flyovers have been painted, and locals have been advised to paint their facades peach and white in line with the themes of the G20 Summit. Unnecessary barricades have been removed from the roads, and bunkers have been painted to create an appearance of harmony in the disputed territory of Jammu and Kashmir.
However, there is more to this story than meets the eye. In fact, it is a deceitful act by India to cover up the grim situation in its illegally occupied territory. India's contradictory actions raise important questions. For instance, why are there barricades on the roads under normal circumstances? Why have more troops been deployed when the valley is already flooded with millions of troops and paramilitary forces? And why are people being detained and killed for demanding their rights on their own land, if the decision to revoke Article 370 was truly in favor of the people and land of Kashmir? India portrays the G20 summit in Kashmir as an effort to promote economic growth, development, peace, and prosperity in the region. India is deceiving not only the people of Kashmir but also the international community.
Pakistan and China have opposed India's decision to hold the G20 summit in Srinagar. The leaders and representatives of the All Parties Hurriyat Conference have also expressed their discontentment, as India is continuously making unilateral decisions and using its power tactics on the people of Kashmir, regardless of the choices and demands of the Kashmiri people. Indian police and troops are arresting and harassing people to restrict their movement ahead of the G20 meeting.
Pakistan has consistently supported the right to self-determination of the people of Kashmir, while India is continuously suppressing their rights through the use of force and committing war crimes. The situation in Kashmir has intensified since the revocation of Article 370 and 35A, with India using force to cover it up. Pakistan's Foreign Office has criticized the G20 meeting in Srinagar, stating that India's agenda for its own benefits and it has nothing to do with the people of Kashmir. Moreover, it's the violations of United Nations Security Council resolutions and the principles of international laws.
The fact that the G20 nations are holding their meeting in a disputed territory that has been a flashpoint for almost seven decades, and where people are demanding their right to self-determination, is concerning. This negligence by the most powerful nations towards one of the most militarized and disputed areas in the world has disappointed the people of Kashmir. They are seeking justice from the international community, particularly those working for human rights. The approval of the meeting could also be seen as encouragement for India to continue its settler colonialism and serious human rights violations in the occupied territory of Jammu and Kashmir.
The Modi-led government's agenda for the G20 summit is to showcase normalcy in Kashmir and downplay ongoing human rights violations. However, this summit will not bring stability or benefits to the people of Kashmir; rather, it is India's attempt to profit from the people and resources of Kashmir. India claims to work on growth and development in different sectors with G20 nations for peace and prosperity, but it is paralyzing the people of Kashmir from their basic rights on their own land. Despite claiming to be a democratic and multilateral country, India is suppressing the voices of Muslim leaders and representatives of occupied Kashmir.
One of the aims of G20 nations is women's empowerment, but Indian authorities and troops have used rape as a war crime in Jammu and Kashmir. Digital development is also listed in the agenda, but the record of internet power cuts in Indian-occupied Kashmir was 58% for the year 2022. Freedom of speech has become taboo in Kashmir, as many journalists and human rights defenders are behind bars facing false charges against them. India, the self-proclaimed biggest democracy, does not even conform to the protocols of the most powerful alliance of G20. Similarly, India has been continuously violating dozens of resolutions of the United Nations Security Council on Kashmir.
The people of Kashmir are passionate and resilient, and their voices cannot be silenced. Their struggle for freedom and justice cannot be obstructed. The powerful nations should exert pressure on the Indian government to withdraw their troops and put an end to human rights violations in Kashmir. The Security Council must hold Indian authorities accountable for their non-conformance with resolutions on Kashmir. The international community must stand in solidarity with the people of Kashmir and work towards peace and stability in the region.
Ms. Shazia currently serves as a research associate at Kashmir Institute of International Relations.
Disclaimer: The views and opinions expressed or referred to  in this article do not necessarily represent those of WNTV or any of its staff or editors. WNTV's aim is to provide, so far as possible,  a platform for external contributors with limited editorial intervention . Accordingly, readers are asked to note that the publication of articles on this site is not in itself to be taken as WNTV's endorsement of any reported third party position, policy or statement.