UK
GRIEF OF THE CENTURY TOWERING IDEOLOGUE ZAHID MALIK IS NO MORE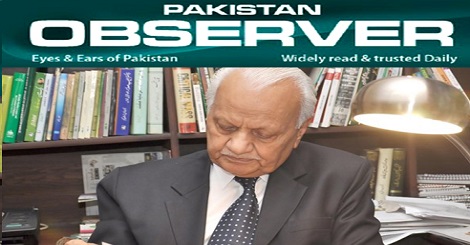 GRIEF OF THE CENTURY: TOWERING IDEOLOGUE ZAHID MALIK  IS NO MORE [We are for God, and to Him we shall return].
Zahid Malik , Editor-in-Chief of English Daily Pakistan Observer, Patron-in-Chief of Nazriya Pakistan Council, Chairman Kashmir Peace Institute, has passed to the Hereafter this morning, leaving behind millions of mourners the world over; We offer our fraternal condolences to members of his grieving family, Faisal Zahid Malik , Editor Pakistan Observer, Karachi, Gauhar Zahid Malik  Executive Editor Pakistan Observer Islamabad, Omar Zahid Malik, Chief Executive Public Entities, Ms Saadia Zahid Malik Editor-in-Chief Weekly Social Diary Pakistan Observer Islamabad, and pray God's Peace, Paradise and Mercies for deceased Zahid Malik.
Amidst thousands of mourners/attendees of funeral prayers including Foreign Affairs Adviser to PM Sartaj Aziz, several Islamabad-based Ambassadors of Muslim countries, Federal Information Minister Pervez Rashid, Retired Chief Justice of Pakistan Mr Justice Iftikhar Mohammad Chaudhry, Rtd. General Ehsan ul Haq, General Aslam Baig, Dr A. Q. Khan, General Rtd Sardar Mohammad Anwar Khan, Ex-President AJK, Income Tax Ombudsman Dr Shoaib Suddle, Ex-Premier AJK Sardar Attique Ahmed Khan, Chief Editors, Editors, Journalists, Senior Officials of PID, senior citizens, the body of Zahid Malik  was laid to eternal peace at the H-8 Grave-ground. There was soothing drizzle when the body of the deceased was being lowered in the grave. All attendees have had a last sight of Malik Zahid with tears rolling down their faces.
Zahid Malik  had a liver cancer; he was treated successfully in Beijing Hospital for Cancer Patient; on return to Pakistan after a fortnight he felt some congestion in intestine, was got operated in KRL Hospital, stayed admitted there for about ten days, developed complications, could not return to normal life, went into coma; and finally on September 1st, 2016, he breathed his last to meet his Caring Master, Almighty Allah. Family members were at his bedside.
Zahid Malik  was an excellent protagonist of founding Ideology of Pakistan, had built a grand complex of Aiwan-e-Quaid at F-9 Park, Islamabad; devoted corners for all provinces, AJK and GB with cultural murals; Kashmiris sacrifices were displayed in blow-ups.
He was founder, Editor-in-Chief of popular Daily Hurmat, Daily Al-Akhbar and English Daily Pakistan Observer; His personal and institutional devotion towards Founder of Pakistan Quaid-e-Azam Mohammad Ali Jinnah, and Ideological Founder of Pakistan Allama Mohammad Iqbal and Pakistan Movement Stalwarts was unparalleled; People within and without the country identified Mr Malik with the powerful ideology of Pakistan. It was his view that inspiration of this ideology would once again revive the nation of Pakistan and the struggling people of Jammu and Kashmir to achieve new goals in life; his concentration on ideological nursing of the younger generation was prideful.
Zahid Malik  was very eager to see the honorable and peaceful settlement of Kashmir dispute. He had lately set up Kashmir Peace Institute. He was first chairman and I [Hameed Shaheen] was first Secretary General. This KPI was destined to play an all-dimensional role to secure the solution of the Kashmir dispute according to the spirit of the UN Resolutions on Kashmir; in its vision was included apart from other vital aspects establishment of a branch of Kashmir Peace Institute in Srinagar; Many crucial matters were to be finalized after his return from Beijing medical treatment; but fate was scheming otherwise; Insha Allah the pious dreams of the deceased would certainly be translated; his vision was a success-story of Pakistan; He once told me: "I feel nagging pain in my mind to see that even after 69 years Kashmir dispute could not be solved. You [ i.e me Hameed Shaheen] have had to play both an evolutionary and practical role in bringing the destination of Kashmir solution nearer to the goal-post". Every Kashmir function in the Aiwan-e-Quaid was preceded by a speech direct from Srinagar by the Chairman of the All Parties Hurriyet Conference Mirwaiz Umar Farooq. He assigned me the task for Kashmir liaison. I did that [still continue] to his satisfaction. Written By Hameed Shaheen.