UK
Wolverhampton Gurdwara celebrates Guru Nanak's 550th anniversary with £5,550 donation to Barnardo's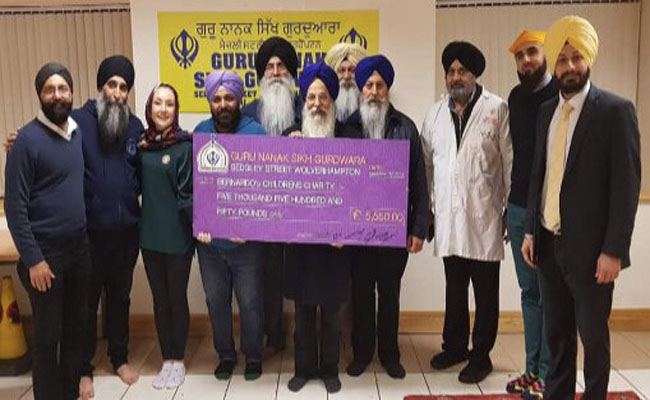 Guru Nanak Sikh Gurdwara in Wolverhampton has donated a generous £5,550 to the UK's longest children's charity, Barnardo's, to mark the 550th anniversary of the birth of Guru Nanak Dev Ji, the founder of Sikhism. The celebration was attended by over 4,000 people, which included members of the Sikh community, local MPs such as Pat McFadden and other friends and supporters.
The donation was received by Carrie Bater, Barnardo's regional fundraising manager, and will go towards vital services that help vulnerable children in the UK.
Arjinder Bhogal from the Guru Nanak Sikh Gurdwara said, "We share Barnardo's values of believing in children, no matter who they are or what they have been through and so we are delighted to celebrate this beautiful occasion by supporting those who need us most."
Barnardo's Chief Executive Javed Khan said, "Barnardo's is extremely grateful to the Guru Nanak Sikh Gurdwara for their donation which will help us to continue our vital work. Across the UK vulnerable children from all communities are facing  growing challenges, from poverty to mental health problems, to struggling to live independently after leaving the care system.
"Barnardo's supports around 300k children, young people, parents and carers, one in five of whom are from Black or minority ethnic backgrounds. But we can only do this with generous support from communities like this one."