UK
High commissioner meets Leader of the House, Birmingham City Council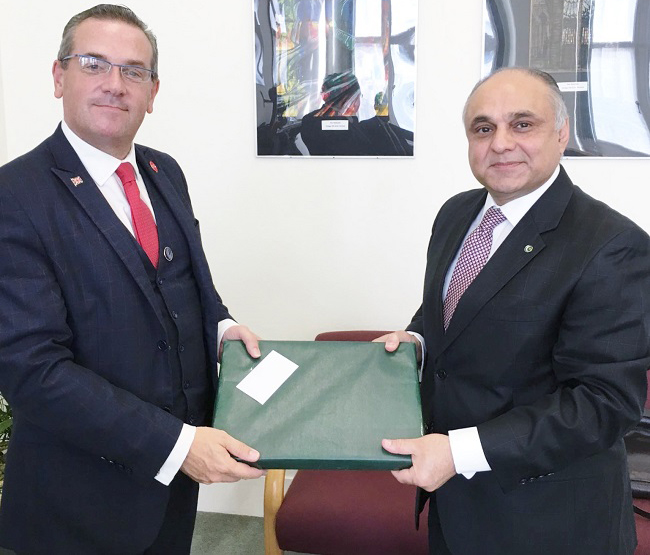 Bringing investment to Pakistan discussed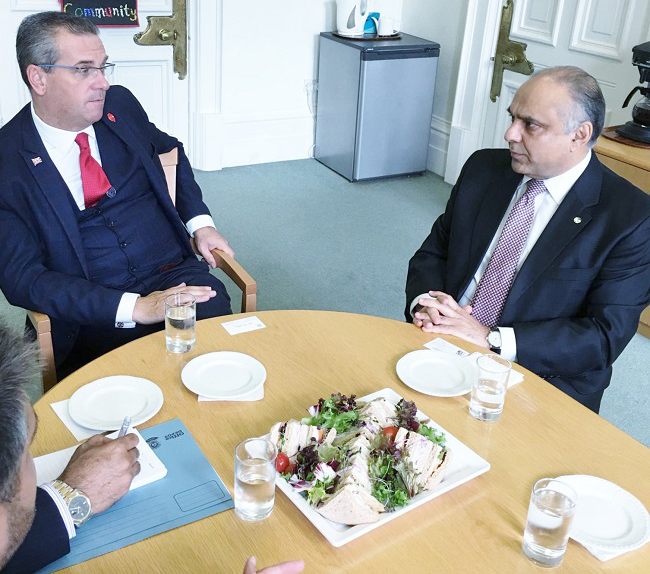 H.E. Syed Ibne Abbas, Pakistan High Commissioner to the UK met Mr John Clancy,Leader of the House, Birmingham City Council at his office on 4 October 2016.The two sides discussed issues of diaspora, investment in Pakistan and developing linkages between Birmingham City Council and various city councils in Pakistan.
Mr Clancy appreciated the role of Pakistani diaspora in enriching the socio-cultural and economic life of the city. He said over 260,000 strong Pakistani diaspora in Birmingham and adjacent areas adds to the diversity of the
city where 167 languages are spoken. Most of the British Pakistani population consists of youth and they can play positive role in the progress and development of the UK and Pakistan by building bridges between the two
countries, added Mr Clancy.
The two sides underscored a number of investment opportunities from City Council to various projects in Pakistan. The Leader of the House showed keen interest in developing linkages with Pakistan through investment. According to Mr Clancy, in all the major 10 cities of the UK, there is considerable presence of the Pakistani diaspora which can be used to promote economic and investment ties.


The High Commissioner thanked Mr Clancy for taking active part in celebrating Independence Day of Pakistan by hoisting Pakistani flag at the City Council Birmingham for the last two years, which was a great goodwill gesture to the British Pakistanis. He particularly liked Mr Clancy's suggestion of exploring investment opportunities in Pakistan and assured him of High Commission's full facilitation and support to any such initiative. The High Commissioner said, in the backdrop of China-Pakistan Economic Corridor (CPEC), there are vast investment opportunities which the City Council Birmingham as well as Pakistani diaspora can benefit from. He invited Mr Clancy, along with a delegation, to visit Pakistan, which the latter agreed to.
The High Commissioner also briefed Mr Clancy about the series of events being organized by the High Commission for the 70th Independence Anniversary of Pakistan in 2017. He suggested to the Leader of the House to organize some events jointly with the High Commission. Mr Clancy expressed keen interest in jointly organizing some events to mark the Anniversary. Both the sides agreed to work toward bringing investment in Pakistan and jointly organizing Independence anniversary events.