UK
High Commissioner meets Lord Mayor of London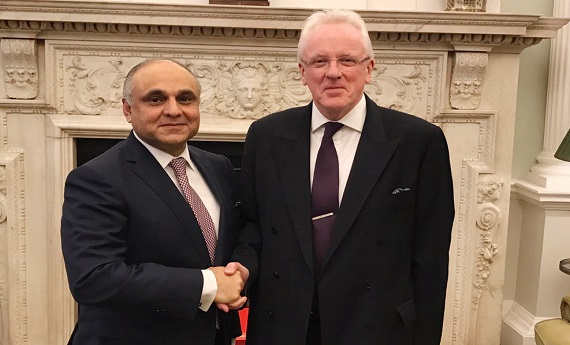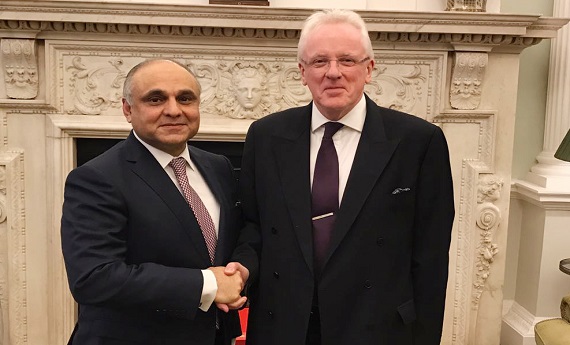 H.E. Syed Ibne Abbas, Pakistan High Commissioner to the UK met The Lord Mayor of the City of London, Dr. Andrew Parmley on 11 January 2017, and discussed his upcoming visit to Pakistan. The Lord Mayor would lead a
nine-member strong business delegation representing prominent British companies to Pakistan.
Speaking to the Lord Mayor, the High Commissioner termed his upcoming visit instrumental in forging closer trade and business ties between Pakistan and the UK, particularly with the companies based in the City of London.  He
said that as a result of serious efforts undertaken by the Government of Pakistan, the socio-economic indicators have shown significant improvement.
Pakistan's economic outlook has been rated positively by international credit rating agencies, like MSCI that upgraded Pakistan as an Emerging Market last year, added the High Commissioner. Pakistan has an investor
friendly regime with enormous profitable business opportunities, he further elaborated.
The Lord Mayor said that he was looking forward to the visit and would like to build long term business and trade links with Pakistan.
The visit by Lord Mayor follows the recently concluded successful visits of British Foreign Secretary Rt Hon Boris Johnson and FCO Minister for Asia and Pacific Alok Sharma to Pakistan. With the improved economic outlook and
fast changing narrative of Pakistan, the foreign investors are evincing keen interest in Pakistan's trade and business landscape.