UK
High Commissioner meets Pakistan Women's Cricket Team in Chelmsford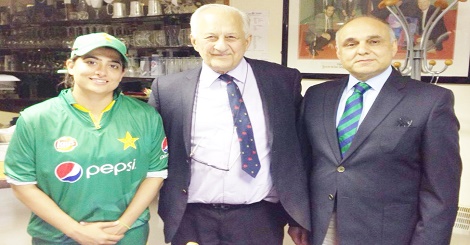 H.E. Syed Ibne Abbas, Pakistan High Commissioner to the UK visited Chelmsford
and met the Pakistan Women's Cricket Team in their third and final T20 match
against England at Essex county cricket ground on 7 July 2016. The High
Commissioner was accompanied by his spouse at the event.

The High Commissioner met all the players and coaching team members  during the
interaction that was meant to boost support for the team. He wished them good
luck for their future series. Chairman PCB Shahryar Khan was also present on the
occasion.

The Team's tour to England was held from 12th June – 8th July, 2016. The tour
consisted of 3 ODI matches & 3 T20 matches. The ODI Matches of this tour were
part of the ongoing ICC ODI Championship which is a qualification process for
ICC Women's World Cup to be held in England in June 2017.