UK
House of Khalsa influential luxury watch brand announces the purewal twins as official brand ambassadors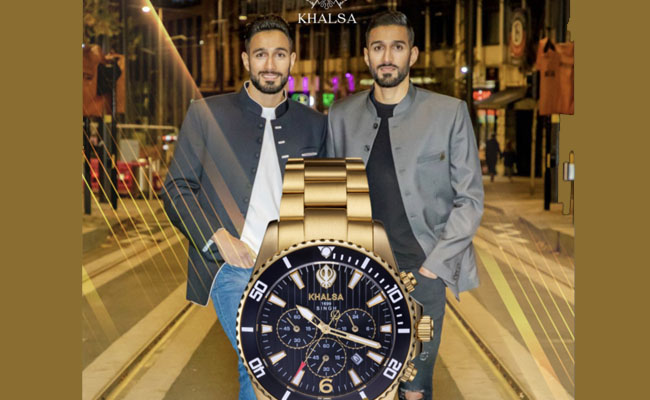 London: In 2021 Identical British South Asian Twins Amar and Arjun Purewal made history lining up against each other at Wembley Stadium in FA Vase final; Amar leading the line for Hebburn Town with Arjun as captain. Making them first pair of identical twins to play in a major final at Wembley, as well as being the first Asian players. 
The House of Khalsa exclusively announce The Purewal Twins as the face of House of Khalsa as ambassadors.
The Purewal Twins are one of its most popular and high-profile faces for House of Khalsa brand, With its sleek and elegant design, House of Khalsa makes a luxury  watches, which are  the perfect match for the Purewal Twin's.  Each of house of Khalsa watches are manufactured in Switzerland and Hong Kong and engraved with the Khalsa symbol.
Danny Singh CEO The House of Khalsa commented' We are proud to announce our partnership with both Arjun and Amar Purewal, they are amazing role models for our community and a perfect fit for our brand. They fit beautifully into our company mission statement; we very much look forward to working with them on a larger platform'
Amar and Arjun went onto comment' We are proud to representing House of Khalsa and engaging in a brand that takes our culture forward and in return lets us promote football in our community, we are very much looking forward to our journey with The House of Khalsa.
On the work front Arjun and Amar are successfully working on AP Coaching, which is going from strength to strength, with Arjun working towards his UEF B Licence.
PERIENCE HOUSE OF KHALSA AT SUNNY JEWELLERS LEICESTER
Sunny Jewellers is the official stockist for House of Khalsa watches in Leicester. To experience House of Khalsa head towards The Golden Mile for Your timepieces known for their intricate craftsmanship.