Politics
Naked aggression part of BJP's settler colonialism campaign to erase Kashmir's distinctive identity: JKNF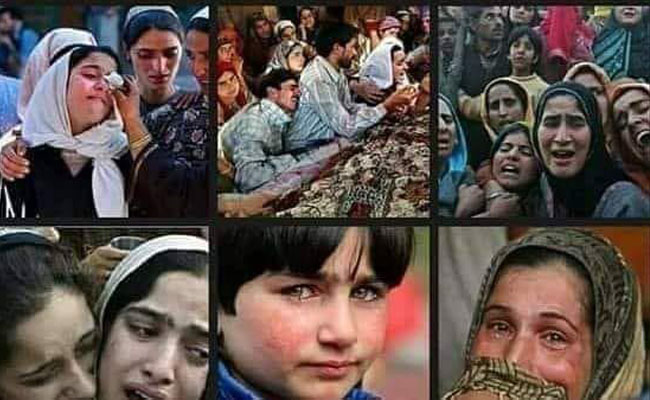 Srinagar: Taking a dig at the Indian apartheid regime's muscular policies towards Kashmir and the Kashmiris, the Jammu and Kashmir National Front has said that the continued bloodshed, killing of innocent youth and vicious cycle of unending violence were part of the communal regime's systematic settler colonialism campaign to erase Kashmiris' socio-political and cultural identity.
In a statement issued here on Wednesday, the JKNF spokesman Shafiq-ur-Rehman while responding to the killing of five youth in Shopian at the hands of Indian occupation forces, said, extra-judicial executions, forced disappearances, and target-killing of Kashmiri youth were part of the India's nefarious designs aimed at altering demographic complexion of the state and turning the Muslim majority state into a minority.
Terming it as a naked aggression and violation of the international covenants the spokesman regrettably noted that world powers were watching the gory death dance in Kashmir like a bystander while macabre game of death, destruction and bloodbath of innocent civilians during fake and stage-managed encounters was going on unabated while.
Lauding Kashmiris' steadfastness and their commitment to the collective cause of freedom Rehman said that Kashmiri nation has shown great resilience and courage in the face of Indian state terrorism and didn't succumb to Indian pressure tactics. "The racist regime led by Modi, has utterly failed to suppress the freedom sentiments and resistance of the people, despite using all means of oppression and suppression", he said.
Paying homage to the martyrs of Shopian, he said, "The youth of Kashmir who have always been at the forefront of resistance struggle have rendered tremendous sacrifices that have brought Kashmir into limelight at international level".
Referring to the prevailing political and human rights situation in the occupied territory, the JKNF leader said that the vicious cycle of violence, lawlessness and chaos in the region has left the BJP government's normalcy narrative in Kashmir exposed.
Expressing concern over the recent witch-hunt and arrest spree of civilians, he said that over the past couple of days Indian occupation authorities have arrested hundreds of Kashmiris mostly youth without any reason and shifted them to jails outside the valley. Terming arrests made on suspicion as a serious violation of law, Rehman made it clear that mere suspicion does not provide reasonable grounds for arrest. He said that international human rights watchdogs must take effective notice of the matter and help stop the ongoing onslaught against Kashmiris.