World News
UNMOGIP and International Media must-visit LOC to check India's warmongering and ceasefire Violations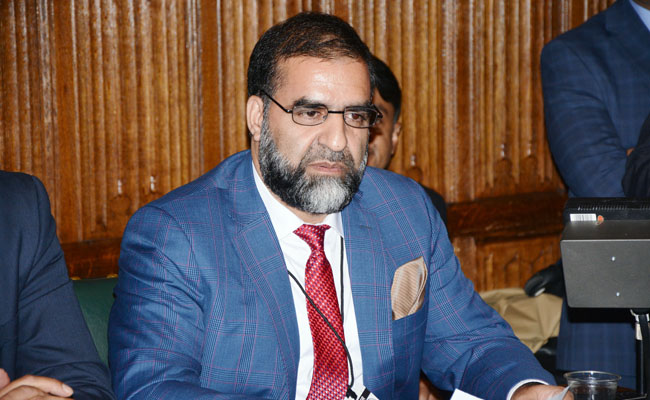 Islamabad: President Jammu Kashmir Salvation Movement Altaf Ahmed Bhat in a statement here in Islamabad today has said that "In 2020, Indian Army committed 708 ceasefire violations so far, in which 2 citizens embraced Shahadat while 42 sustained injuries". While the whole world is trying to combat the COVID-19 outbreak Indian is busy in state terrorism in Kashmir and on LOC.
Bhat further said that People in Indian occupied Jammu and Kashmir are stranded between Indian occupation forces lockdown and COVID-19 lockdown, while there is a serious shortage of food, medicine and medical equipment in hospitals. And Hindutva inspired BJP government rather than providing the supplies and normalising the situations has resorted to Killings, suppression, viz a viz cordon and search operations. On the other hand, violating ceasefire agreement by unprovoked firing with heavy artillery.
He also appreciated Pakistani Army's response and shotting down of Indian Spy Quadcopter after it violated Pakistan's airspace in Sankh Sector along the Line of Control.
" Amidst the lockdown and COVID-19 outbreak in Indian Occupied Jammu and Kashmir Fascist Indian Government introduced new illegal draconian domicile law, which is their first step towards the settlement of Non-Kashmiri Residents in IOJK&L," Bhat added
According to reports from IOJK&L The fascist Indian government has transferred 40 Kanal of Land in Drargmulla Kupwara to Indian Army's Kidriya Vidaliya, and 40 Kanal of land in Deegam area of Shopian district for construction of colonies for Non-Local Employees.
While in so-called cordon and search operations Indian brutal forces destroyed houses and harassed residents in different areas of Indian occupied Jammu and Kashmir. Moreover, in Shah Maidan Panzgam, Kupwara district Indian army has installed Long Range artillery in residential areas to use the local population as Human shield and attached across LOC.
President JKSM Bhat stressed that The World must act now, the Human Rights Organizations, UNO, OIC, WHO must join hands to pressurize India to refrain from the path of Nazism and Hindutva, moreover to end its occupation in Kashmir.
Kashmiri Leader Altaf Ahmed Bhat also demanded that the Kashmiri Freedom seeker leaders including Dr Hameed Fayyaz, Zafar Akber Bhat, Yasin Malik, Asiya Andrabi, Shabbir Ahmed Shah, Massart Alam Butt and all other Kashmiri prisoners in Indian jails must be released unconditionally so that their lives could be saved during the deadly outbreak of contagion.
Bhat appealed to United Nations Secretary-General and UN Military Observer Group to take serious note of ongoing Indian ceasefire violations despite the call of UNSG Antonio Guterres' call for global ceasefire including at Line of Control (LoC) amid coronavirus pandemic.