UK
Minister Anusha Rahman meets British Minister Matt Hancock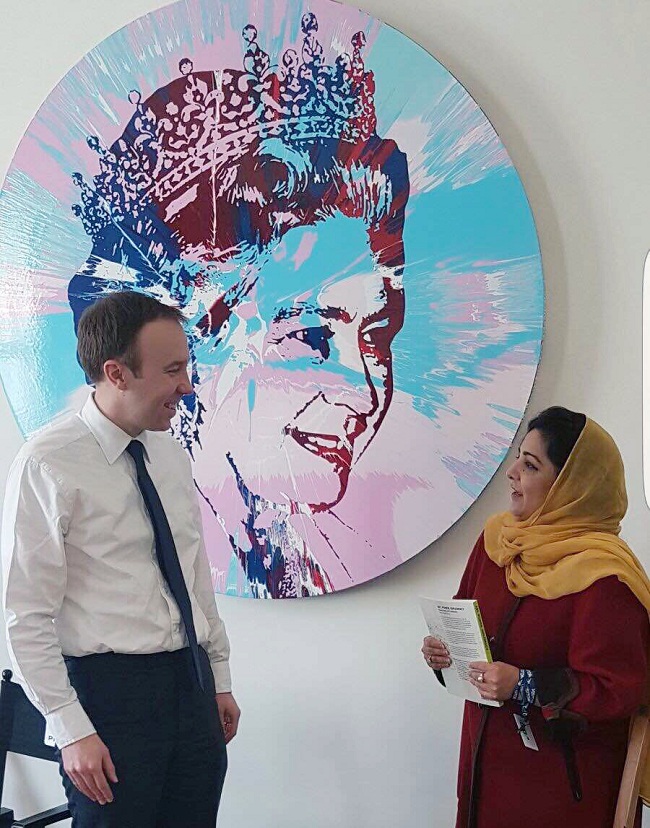 Minister Anusha Rahman meets British Minister Matt Hancock; discusses collaboration in IT and Telecom sectors

Ms Anusha Rahman Ahmad Khan, Minister for Information Technology and Telecommunication met Rt Hon Matt Hancock MP, UK's Minister of State for Digital and Culture, in his office in London today. The Minister is on an official visit to the UK to attend a conference on 'Digital Economy' being held in London. H.E Syed Ibne Abbas, Pakistan High Commissioner to the UK and Mr. Azmat Ali Ranjha, Federal Secretary Commerce also attended the meeting.
The two Ministers exchanged views on collaboration between Pakistan and the UK in IT and Telecom sectors. Minister Rahman shared with her British counterpart the achievements made by Pakistan in the technology and telecom sector during the last three years of the present government. She stated that Pakistan's telecom sector is growing fast with annual turnover of $4.5 billion, whereas growth of internet has gone from 3 million to 40 million users in the last three years. This has happened due to new integrated telecom policy of the government, which is in sync with the latest technological developments and trends to bring about inclusive socio-economic development and provide digital access for all segments of society, added the Minister.
Under the initiative of Connecting the Unconnected, around 6500 km of optical fibre would be laid all across the country, covering the inaccessible terrain, said Minister Rahman. The Minister briefed her counterpart about the salient features of National Information Technology Park at Islamabad which would house 100 big IT companies, data centres and business centres. Besides, IT Park would be setup at Lahore and Karachi on the similar pattern, Ms Rahman added. The Minister also informed about Prime Minister's National ICT Scholarship Program, National ICT Internship Program and specifically ICT's for Girls which aims at improving the computer skills of girls.
Minister Rahman shared with the British Minister the details of the National Incubation Centres and the National Innovation Centres to encourage innovation and entrepreneurship in the country. She also briefed Mr Hancock on public sector digitalization to improve efficiency, transparency and accountability in the public sector organizations.
Minister Hancock appreciated the fast growth and latest developments in IT and Telecom sector of Pakistan. He expressed his keen interest for future collaboration between Pakistan's Incubation Centres and the British Tech City. Minister Rahman also extended an invitation to Mr. Hancock to visit Pakistan which the latter accepted with thanks.