UK
NHS Hero: Alleviating pain "so rewarding" for Consultant Urological Surgeon Tariq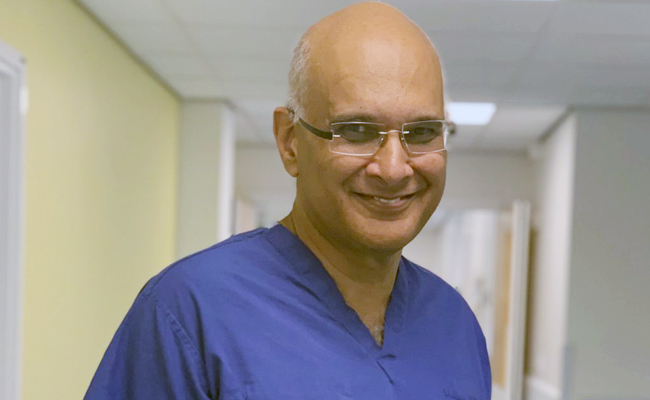 Mr Tariq Sami, Consultant Urological Surgeon
For surgeon Tariq Sami the most memorable moments of his NHS career have to be nursing patients from the brink of death, back to health again.
"It's amazing to watch these patients walk out of hospital after they have been so ill," said the Consultant Urological Surgeon, who has worked at Sandwell and West Birmingham NHS Trust for 16 years.
"Many come back to thank the team and show their appreciation for the care they have received. Some tell us about how they have been given hope and the desire to live again. It's so rewarding to be able to alleviate their pain."
The dad-of-one decided to specialise in urology because it is a "technology-related" speciality.
His role involves treating patients who have urological cancers, those suffering from urinary problems and stone diseases. A typical week for Tariq is busy, from consultations with patients and operating on them, to teaching students and mentoring staff. He also meets with his colleagues to discuss complex cases.
Recently though, he has become involved in the USE-IT (Unlocking Social and Economic Innovation Together) project, which assists foreign healthcare professionals, who have left a difficult situation in their country, back into work within the UK. The Trust's Learning Works department successfully took on the scheme for two years.
"I was asked if I wanted to take on a healthcare professional to shadow me," he explained. "I didn't hesitate as it sounded like such a worthwhile cause. It was very satisfying to see someone achieving their full potential after they had been struggling for quite a while to find work within this country.
"By going on this programme they are able to give back to society and also continue doing a job they are passionate about – caring for people."
That's certainly something that is always at the forefront of Tariq's mind when he comes into work.
"I want to deliver the care that I would like me or my family to receive," he added. "I don't differentiate and I expect the same from my colleagues.
"Over the years we have seen the urological services expand and this will be even more so the case when our new hospital, the Midland Met opens in 2022. It's an exciting time and I am looking forward to the opening of the facility."
When he's not busy caring for his patients, or educating students, he love spending time with his family. However, he also has a hidden talent – the doctor is also a keen oarsman and has even participated in national and international rowing competitions back in his native Pakistan.
So who is Tariq's hero? "I have many," he said. "But for me, the one who stands out has to be Neil Armstrong. What he did was phenomenal – literally it was out of this world. You have to admire him for that."
Read more: https://www.swbh.nhs.uk/media/nhs-hero-alleviating-pain-so-rewarding-for-consultant-urological-surgeon-tariq/?sfns=mo