UK
New Home Secretary Priti Patel's Record on Human Rights Prompts 'Extreme Concern'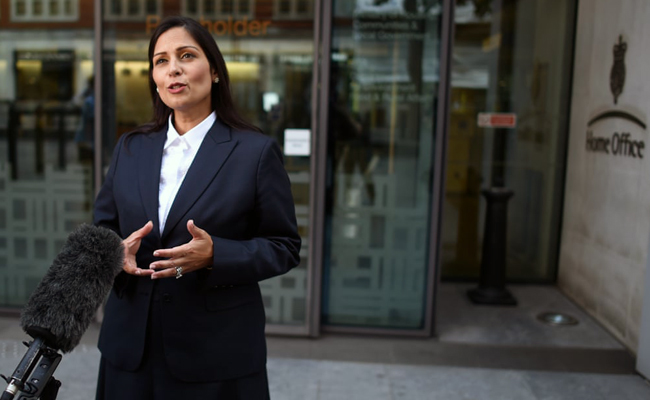 Priti Patel is interviewed outside the Home Office on Wednesday. Photograph: Peter Summers/Getty
Campaigners wary of new home secretary, who backed Theresa May's hostile environment aim
Priti Patel's appointment as home secretary has been met with an outpouring of "extreme concern" over her hard-right record on key issues covered by her new brief.
Patel – who was forced to resign from government two years ago after it emerged that she had held secret, unofficial meetings with Israeli ministers, business people and a senior lobbyist – will be responsible for immigration, crime and policing, counter-terrorism and drugs policy.
The Essex MP, whose Gujarati Indian parents migrated to the UK in the 1960s from Uganda just ahead of Idi Amin's decision to deport all Asians, has voted for a stricter asylum system, stronger enforcement of immigration rules, and against banning the detention of pregnant women in immigration jails.
She backed the key components of Theresa May's hostile environment policies, presented in the immigration bills of 2014 and 2016, such as rent, work and bank account checks, all of which led to members of the Windrush generation being wrongfully told they had no lawful right to live and work in the UK.
Read more: Jamie Grierson, Guardian, https://is.gd/UQATzk