UK
New mental health star is born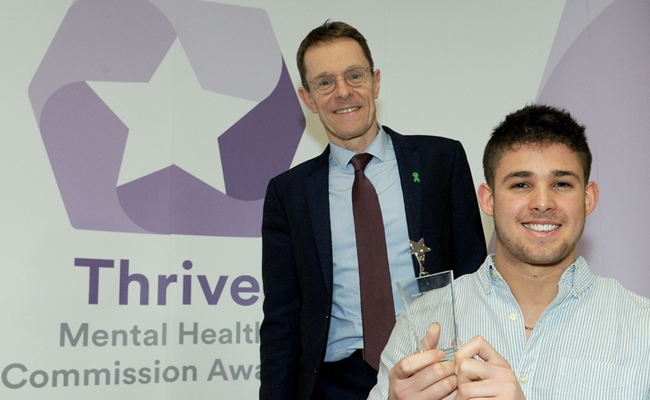 A Solihull man was tonight (Thurs Jan 31) named West Midlands Thrive Mental Health Superstar for his courage and compassion in talking down a distressed friend threatening to jump from a motorway bridge.
Caleb Turner, aged 19, won the night's top award at the West Midlands Combined Authority (WMCA) event.
Caleb was nominated for his kindness and bravery in helping the young person who was in real danger of taking his own life.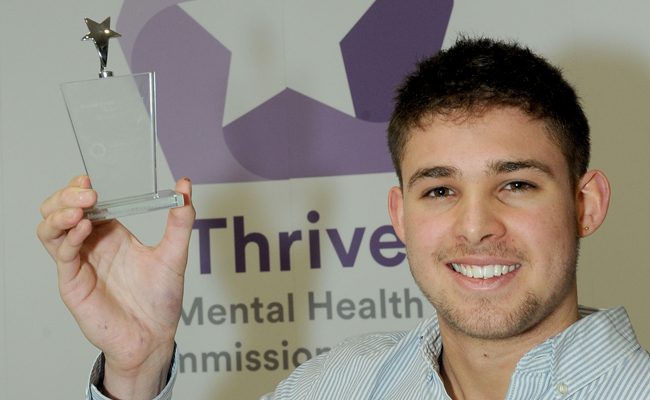 Caleb Turner receives his trophy from Mayor of the West Midlands Andy Street after being named Mental Health Superstar at the Thrive Mental Health Commission Awards 2019.
Judges said that although Caleb had no mental health training his courage showed that anyone could play a part in reducing suicide.
Caleb said his actions that night were inspired by Jonny Benjamin and Neil Laybournand their story, the Stranger On The Bridge.
He said: "That was a big factor – knowing what Neil had done just made me think anyone could do the same.
"I didn't want to take a chance and ignore it – but it wasn't just me, lots of people have got involved and supported since."
One Saturday night last year Caleb saw a Snapchat message from a pupil at his school.
Although he did not know him very well the message sounded desperate so Caleb and his friend contacted the other pupil – and realised that the young man was standing on a bridge over the M42 motorway with plans to jump into oncoming traffic.
They drove to the scene while Caleb talked to the young man on his mobile. Arriving before the police they found the young man hiding in the bushes.
Caleb said he remembered Jonny Benjamin's experience and asked the police not to handcuff the young man and insisted on going with him in the police car. Caleb stayed with him all night at A&E.
He then accompanied him back to his flat and only left when his friend was asleep.
The young man is now at university and receiving professional support.
Caleb was one several winners at the Thrive Mental Health Commission Awards which was hosted by broadcaster Adrian Goldberg for a second year in the Richardson Suite at The Hawthorns, West Bromwich Albion FC.
WMCA launched the awards last year to recognise outstanding efforts in the field of mental health, to promote positive attitudes and help eliminate stigma.
The event is also an opportunity to update on the Thrive West Midlands programme, introduced to drive better mental health and wellbeing across the region.
Mayor for the West Midlands Andy Street welcomed an audience of more than 200 people which included a wealth of people with professional and personal experience of mental health issues.
The Mayor said: "When the combined authority was being formed, my predecessors recognised the importance of mental health nationally and specifically for the West Midlands – and set up the Mental Health Commission.
"The Commission broke new ground establishing a Citizens Jury – and one of their recommendations was to get the community involved and hold an annual awards ceremony to recognise people in local communities who do amazing work supporting each other.
"Tonight is the second such awards and the nominations we have received are truly inspiring."
Nominations were invited from across the whole WMCA region and a Mental Health Star was chosen from each area.
People could nominate anyone – an individual or team or organisation – who they felt had made a real difference to improving mental health – either their own or in the community.
Caleb Turner was named Mental Health Superstar at the Thrive Mental Health Commission Awards 2019.