UK
Official Opening of Handsworth Park Arts Trail by Vanley Burke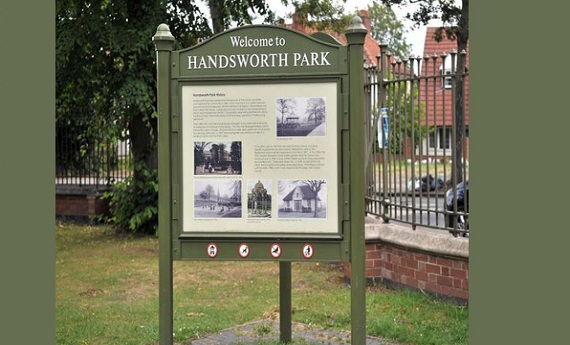 Official Opening of Handsworth Park Arts Trail by Vanley Burke
Friday 6 October 2017 – 3pm to 4pm
Boat House Cafe, Handsworth Park, Hamstead Road, Birmingham B20 2BY.
An exciting new initiative is being launched in one of Birmingham's oldest and most beautiful parks.
Handsworth Park Arts Trail is an exhibition of public art in the natural setting of one of Birmingham's oldest and most beautiful parks. Each year two pieces of public art are being commissioned over a three-year period.
The Arts Trail is organised and hosted by community arts organisation Handsworth Creative, in association with Birmingham City Council, Friends of Handsworth Park and Perry Barr Arts Forum and is curated by local residents Pauline Bailey and Jan Kimber.
Handsworth Park Arts Trail will be officially opened by Vanley Burke, whose iconic images have captured the evolving cultural landscape, social change and stimulated debate in the United Kingdom over the past four decades. As a Birmingham based artist, Vanley has exhibited his work in galleries locally and internationally over many years since moving here from Jamaica as a teenager in 1965.
The two new pieces produced in 2017 are by the artists, Luke Perry and Pauline Bailey. Luke's piece is entitled 'SS Journey' and Pauline's is entitled 'Pyramid Tower'and both follow the 2017 theme of 'Journeys'. Handsworth Creative is grateful for the support of Birmingham City Council and the Arts Council England, which has made the Arts Trail possible.
The arts trail aims to bring public art directly to the local community and also encourage more local people to visit and walk around Handsworth Park. It builds on the successful temporary arts trail around the Boating Lake in 2015.
In addition to the newly commissioned pieces, the Handsworth Park Arts Trail includes temporary art work displayed on The Plinth near the Boating Lake and other pieces of public art already in the park, one dating back to the 19th Century and enables visitors to explore a wide range of artistic forms across the whole of the park.
Pauline Bailey said, "Handsworth Park is a wonderful place and it is the perfect environment to exhibit public art and introduce people to a range of artistic styles."
Jan Kimber added: "Local residents know how beautiful Handsworth Park is, and we hope that the Arts Trail will encourage people from other parts of Birmingham to visit the place and see for themselves. We hope this will put Handsworth in the news for all the right reasons."
The Arts Trail has also been actively supported by officers from Birmingham City Council's Parks Service and the Cultural Development Service.