UK
Pakistan High Commissioner hosts Eid-ul-Fitr Open House in London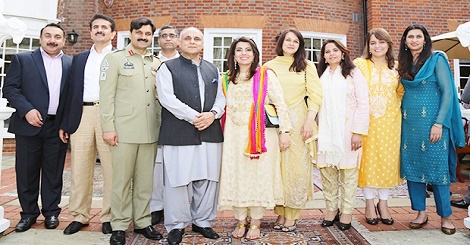 H.E. Syed Ibne Abbas, Pakistan High Commissioner to the UK, hosted Eid-ul-Fitr
Open House at his official residence, "Pakistan House" in London on 06 July
2016, to celebrate the auspicious occasion with the Pakistani community in the
UK.
Muhammad Nawaz Sharif, Prime Minister of Pakistan, in his special message for
this occasion, appreciated High Commissioner's initiative to reach out and
connect with the community.
More than 1000 guests from all walks of society attended the Open House and were
served with traditional Pakistani cuisine. The guests included Lords, MPs,
Mayors, Ambassadors/High Commissioners, Councillors, community leaders,
prominent business persons, members of the Pakistani and British society,
representatives of the Foreign and Commonwealth Office (FCO), and Department for
International Development (DFID), officials of the High Commission as well as
their families and media representatives. Some visiting Senators, MNAs, and MPAs
from Pakistan and Shahryar Khan, Chairman of the Pakistan Cricket Board were
also in attendance on the occasion. Besides, Vice Chief of Air Staff, Air
Marshall Asad Lodhi, who was on an official visit to the UK,  attended the Open
House.

The High Commissioner and his wife spent the day with the community members
representing all ages and interests. The attendees termed the event a great
opportunity to socialize and meet and greet each other on this happy occasion.
They said: "We are celebrating the Eid-ul-Fitr second time here at the Pakistan
House; all this festivity reflects the beauty of our culture, traditions,
apparel and cuisine. With families and friends all together at one place gives
us a feeling as if we are celebrating Eid in Pakistan. It also gives us a sense
of belonging to the High Commission."
The guests enjoyed the traditional Pakistani food, whereas the live musical
performance by Tanya Wells, Amir Hussain Qawwal and Raja Kashif added to the
festivities. Special arrangements were made to entertain the children, including
Bouncy Castle and Candy Corner where they had fun time during the day out.
The Open House was attended by guests from outside London as well and provided a
good opportunity for the High Commission officials and the community to
celebrate Eid together. Presence of the members of the Pakistani as well as the
British society in a large number at the Pakistan House made the day memorable.