Articles
Pakistan Key Role In South Asia Peace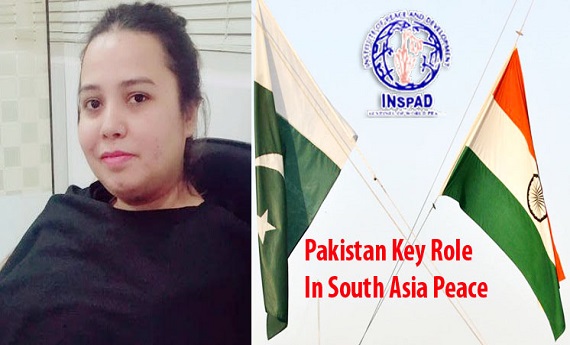 Written by: Sahrish Ramzan Thaheem
Pakistan is a Federal Parliamentary Republic In South Asia Region. And always play an important key role in Southeast Asia peace."Southeast Asia" is a term used to repress the southern region of the Asian Continent,which comprises the sub-Himalyan SAARC Countries and,for some authorities,adjoining countries to the west to east.
The current territories of Afghanistan, Bangladesh, Bhutan, Maldives, Nepal, India, Pakistan and Sri Lanka form the countries of South Asia.The population of South Asia is about 1.749 billion or about one fourth of the word's population,making it the most populous and most densely populated geographical region in the world.
"The South Asian Association for Regional cooperation (SAARC) is an economic cooperation organisation in the region which was established in 1985, with seven countries and added Afghanistan as an eight member in 2006.
The world Factbook,based on geo politics,people and defines South Asia region consist of Afghanistan, Bangladesh, Bhutan, British India, Maldives, Nepal, Pakistan, Sri Lanka.
So,as Pakistan is the member of SAARC and wants peace in southern region as well as in the whole world.Pakistan had play an important role in world calmn and peace.It's a peaceful country ever. Nowwithstading Indian extremists used ugly language for Pakistan but Pakistan keep calmn and want Indo-Pak issues just resolved with talks but not via war.But if war will not start between these countries the credit only goes to Pakistan which wants the solution on peace but not on war.
Pakistan is a country whose creations was based on religious and peaceful Motives.
According to "Agency France Press; On 22 March,2003 U.S president George Bush said on the occasion of National Day of Pakistan,
"He Lauded Pakistan's cooperation in the first against Global terrorism in a message of Best wishes to that times Pakistan President General Pervaiz Musharaf.The Bush also said,According to a Foreign Ministry Statement,"The Dramatic Success that our cooperation has achieved against International terrorists is a record of which we can be proud.
Hence,It proves that after the statement of U.S president,Pakistan is also against terrorism,but not a part of terrorism.
To start with war on terror in 2001,Pakistan plays role as a Front Man.After the terrorist attacks of September 11, 2001 the Bush administration declared a World wise " war on terror" in Afghanistan against Al Qaeda and Taliban.
President Bush states that; our war on terror begins with Al Qaeda and Taliban,but it does not there.He also said the war will not end until every terrorist group of Global reach has been found,stopped and defeated.
Taliban became prominent in autumn of 1994 when starting from Kandahar,They Captured many areas in South Afghanistan.Noted that Taliban are the fighters which expelled Out Russia from Afghanistan even with the help of US.US provide help to these peoples but US start the war against Taliban as they targeted to prevail the terror in there.The word Taliban drived from the Arabic word which means students.Afghanistan hit the world's headlines in 1979.
In that time when Russia targeted to Afghanistan,Many countries supported to Afghanistan to fight against Russia even US and Pakistan also provide the help for the sake of peace in South Asia but that time SAARC has only seven member countries Excluded Afghanistan.But it's the neighbour as well as Islamic neighbour country of Pakistan.
But after the attack of 9/11 By Taliban George Bush US President start announced  war on terrorism against Taliban,He said war will not end until every terrorist group of global reach has been found,stopped and defeated.
Pakistan play the front man role in the war on terror.it's provide the support to US to fight against terror and prevail peace in the world.
That's why US President George Bush lauded to Pakistan cooperation against Global war on his addressed on the a National Day of Pakistan. He states that; we look forward to continuing these efforts,as we broaden and deepen our reinvigorated relationship.
Pakistan has arrested and handed over around 480 suspected Al Qaeda and Taliban fugitives to US authorities.And thousands of people have been killed in Pakistan due to terror attacks since the beginning of the war on terror.Pakistan sacrifices around fifty thousand peoples. Pakistan had suffered heavy losses in fighting the war on terror.More than fifty thousand people including army, police, and civilians have lost their lives in the war on terror.The country also lost 80 billion as well as 50 aren't Rupees property lost also,and also forty lac migrations done in the result of war.Afghan refugees,to whom Pakistan Pakistan opened their homes and hearts,remain in Pakistan is the best example of peace in world.Pakistan hope to see them returns to Afghan voluntarily and with Dignity.
According to Amnesty International report on statistics proved that Pakistan is the third greatest country to harbouring alien to the refugees.
Today all international Forces admitted Pakistan is a peaceful country and also wants peace in the world.
The prime minister of Pakistan Muhammad Nawaz Shareef in his current speech on 22 Sep 2016, in the General assembly of United Nations.He states that our priority Goal of economic development requires internal as well as external peace and stability.My country has been principal victim of terrorism.Including that supported, Sponsored, and financed from abroad.He also said  we will not allow externally sponsored terrorism and threats of destabilisation to cause turbulence in Pakistan.Tens of thousands of our citizens and security personnel have been killed or injured in terrorist attacks.
"Our comprehensive strategy of Law enforcement and targeted Military operations has produced remarkable results and enable Pakistan to turn the tide against terrorism."
Pakistan criticised  the terrorism in every decade.
Pakistan Zarb-e-azab operation is the largest,most robust and most successful anti-terrorism campaign anywhere in the world.
Pakistan wants with his SAARC members as well as also with Border-shared countries neighbour countries.Pakistan repeatedly offering to India  a dialogue to address all outstanding issues- but India always create violation which destruct the peace in the Southeast Asia.
Indo-Pak Issue is on the table of SAARC these days. Assisting a war was not an option between India and Pakistan. Sri Lanka said  on 5th October 2016, cross border terror was a core issue on the table for SAARC and the members of eight nation grouping.
Even that,Inserting with media after talks with India Prime Minister "Narendra Modi" on the key regional and bilateral issues including security situation in the region, "Sri Lanka Prime Minister Ranil Wickremesinghe" also stressed on India Pakistan issues.SAARC has look at it and discuss what has happened, How we are going to handle it…. Its the Big issue these days which destruct the South Asia peace.Even that Pakistan don't want war,But Indian Government forced to Pakistan on war.
Although Pakistan is the member of SAARC situated in South Asia region and shared its border with four countries as bordered by Afghanistan to the northwest and Iran to the west while China borders the country in the north and India to the east.India and Afghanistan also the SAARC members as well as the neighbour countries also.But the most tension which bears Pakistan with these countries. The nation is geo politically placed within some of the most controversial regional boundaries which share disputes and have many-a-times escalated military tensions between the nations, e.g., that of Kashmir with India and the Durand Line with Afghanistan.Pakistan and are on the Islamic republic countries. Pakistan was fully supports to Afghanistan in 1978 against war with Russia but as Pakistan is solemnly against terror which even International Forces admire Pakistan.
The only neighbour border shared country china has in very good economic and Trade terms with country.Its in every critical situation support to Pakistan.But all allies of India started sponcer against Gawader Cepac. That's why these critical situations may lead towards nuclear war In spite that Pakistan want peace in the region as well as in the world.our Pakistani General Raheel Shareef mentally defeated to India.Our Army's determinations are much high.
Few days ago, I watched the Indian Army message for Indian and Pakistan High officials and Public;
Even Indian Army also don't want war with Pakistan But Indian extremist, Hindu leaderships trying to destroy the peace between countries ,They used ugly languages For Pakistan.
Pakistan always fulfil United Nations Law and accepting binding but India never accept any international Law ever. So the peace how can built only the efforts of one country…..????????