UK
Geelani unmasked neo-colonial face of fascist India : Pakistani , Kashmiri Diaspora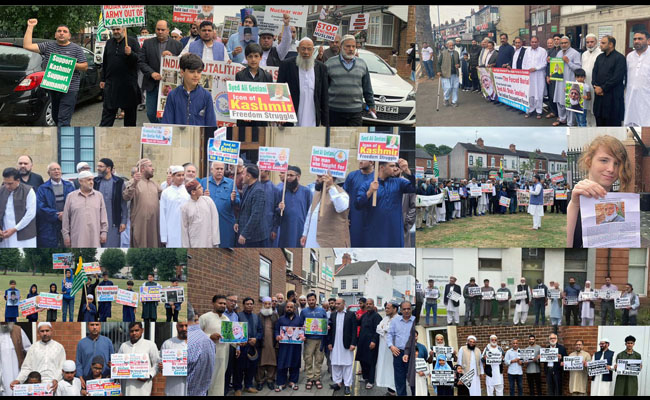 BIRMINGHAM, UK – Kashmiri, Pakistani diaspora and their allies on Friday commemorated the first martyrdom anniversary of Shaheed Syed Ali Geelani in the UK and across Europe as 'Youm-e-Baba-i-Hurriyat' or 'Day of Father of Freedom Movement' in Indian Illegally occupied Jammu and Kashmir (IIoJK).
People in Birmingham, Glasgow, Luton, Oldham , Leeds, Nelson cities came out in droves to pay tributes to Geelani, the life-time chairman of All Parties Hurriyat Conference (APHC), who attained martyrdom on Sept. 01, 2021 while he was under illegal house arrest at his Hyderpora residence in uptown Srinagar, the capital of IIoJK. He was forcibly buried in a local graveyard against the wishes of the Kashmiri nation.
The demonstrators urged the British government to force India to return body of Shaheed Geelani so that it is buried according to his will and wish of Kashmiri people. Geelani had wished to buried in Martyrs Graveyard Srinagar.
Fahim Kayani, president of Tehreek-e-Kashmir UK, on whose invitation events to mark 'Youm-e-Baba-i-Hurriyat' were held in United Kingdom, said oppressed people of IIoJK "have no luxury to forget services of their leaders."
"Remembrance is resistance," Kayani told an anti-India demonstration in Birmingham, adding, Shaheed Geelani relentlessly fought fascist Indian military regime in IIoJK.
"Shaheed Geelani Sahab showed us a way that nothing can replace the sacred freedom from an illegal occupation," Kayani said, urging steadfastness in fight against Indian military regime in IIoJK.
Kayani said the legend of Shaheed Geelani is a beacon light for younger Kashmiri generations to come.
"Shaheed Geelani Sahab unmasked the so-called democratic India as a neo-colonial power which is being supported by the imperial west," he said.
"This contribution of Shaheed Geelani Sahab is a matter of significance for modern day anti-imperial studies and struggles," he said. "Fascist India is an imperial and a colonial power in Asia; it must be dealt with as such and all those who believe in anti-colonial and anti-imperial struggles must come together to fight India and hold it accountable for its war crimes in IIoJK."
Kayani also thanked government of Azad State of Jammu and Kashmir (AJK) and Prime Minister Sardar Tanvir Ilyas Khan for holding state-level programs to commemorate 'Youm-e-Baba-i-Hurriyat'.
Kayani reiterated the demand of Kashmiri diaspora that Sept. 01 – day of martyrdom of Shaheed Geelani – be declared as 'Youm-e-Baba-i-Hurriyat' by the government of Azad State of Jammu and Kashmir.
Muhammad Ghalib President Tehreek-e-Kashmir Europe said "Shaheed Geelani loved people of AJK because Azad Kashmir people fought fascist Dogra regime, which was helped by then Indian forces, to liberate their homeland which is free where people live their life of honor and dignity,"
"It is incumbent upon people and government of AJK to forge a coordination with Kashmiri and Pakistani diaspora along with their allies across the globe to intensify lobbying and diplomacy to end illegal military occupation of Kashmir by India," Ghalib said.
Khawajah Muhammad Sulieman Director KIIR Centre of Tehreek-e-Kashmir UK said "The scholarship produced by Shaheed Syed Ali Geelani bears testimony that he was one among few Muslim leaders whose vision for an Islamic welfare state for the Muslims of the region will be studied for generations to come,"
Syed Tufail Hussain Shah Patron in Chief Tehreek-e-Kashmir UK, Shukat Sultan Secretary General TeK Scotland, Eng Muhammad Yousaf President North Zone , Mulana Shafiq ur Rehman Former President UKIM , Ch Ikram ul Haq President TeK Birmingham , Ch Muhammad Sharif Senior Vice President TeK UK , Raja Muhammad Aslam Incharge Haroonia Mosque, Qamar Abbas Senior Vice President TeK Birmingham, Ishtiaq Ahmed President TeK Leeds , Shafiq Malik TeK Leeds, Kashif Munir Sec Gen TeK Birmingham and Raja Muhammad Azad President TeK Birmingham urging the AJK government to frame a policy to introduce his literary works in educational curriculum.
Stuart Richardson Secretarty General of Stop the War Coalition Birmingham branch also condemned the forced burial of Shaheed Syed Ali Geelani by the Indian government under the barrel of gun . Stop the War Coalition and Tekreek-e-Kashmir UK activists distributed pamphlets across Birmingham about Shaheed Syed Ali Geelani and his struggle against Illegal Indian Occupation of Kashmir.
On the night Shaheed Geelani attained martyrdom, the fascist Indian troops raided his home, beat up his family, relatives and neighbors and dragged his body out of the house and later forcibly buried it in the dead of the night.
Fahim Kayani President TeK UK also reminded the AJK government to rename University of Azad Jammu and Kashmir after Shaheed Syed Ali Geelani.