World News
Kashmiris protest outside the United Nations HRC headquarter against the forced burial of Geelani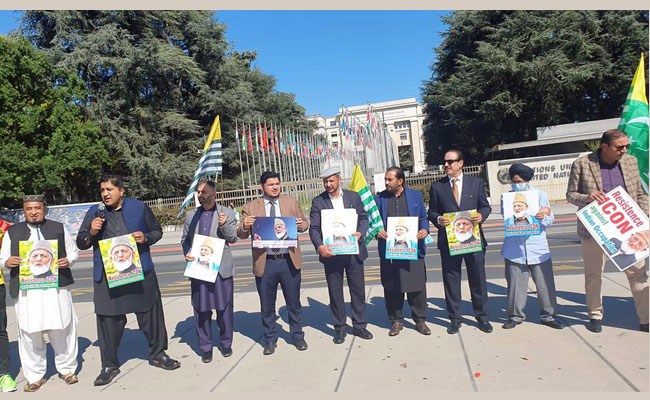 Geneva, Switzerland 24 Sep 2021 : ( ) Tehreek-e-Kashmir Switzerland organized a Protest outside the Headquarters of the United Nations Human Rights Council (UNHRC) Geneva Switzerland against the Human Rights abuses by India in IIOJ&K.
The protest was organized by Tehreek-e-Kashmir Switzerland on 24th September 2021. The Guest speakers were: Chairman Jammu & Kashmir Salvation Movement (J&KSM) Altaf Ahmed Bhat, President Tehreek-e-Kashmir UK (TeK UK) Fahim Kayani, and President Tehreek-e-Kashmir Italy Mehmood Sharif.
While Pakistani and Kashmir diaspora community, social and political activists, and Human Rights activists joined the protest to expose the Indian violations of all international norms, and Human Rights abuses in Illegally Indian Occupied Jammu & Kashmir (IIOJ&K). The Protesters were carrying Shaheed Syed Ali Geelani's pictures and banners with slogans against the illegal occupation of Kashmir.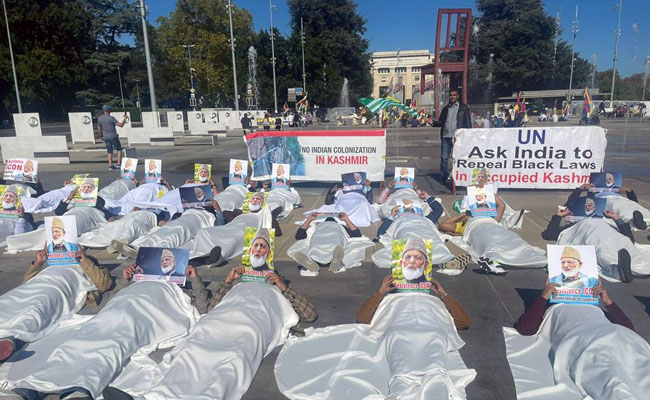 Addressing live on-call Chairman JKSM Altaf Ahmed Bhat said that Indian aggression since 1947 has inflicted great pain to Kashmiris, we have lost hundreds of thousands of people, women are raped, houses are demolished, businesses destroyed, Education disturbed and youth target killed.
Modi led BJP Govt of India not only scrapped articles 370 &35A but it preplanned the Financial and Economic breakdown of Kashmir, an act aimed at breaking the will of Kashmiris for demanding Right to Self Determination as per UN resolutions. Bhat added.
Chairman JKSM Altaf Ahmed Bhat further added that while the real Hurriyat leaders are languishing in different jails, Indian occupational forces are target killing Kashmiri youth, demolishing residential areas during fake encounters and slapping Journalists with lawless laws to curb the voice of voiceless people.
Bhat while paying glowing tributes to Veteran Resistance Leader Syed Ali Geelani said that Indian fascist authorities forced his burial without the family members, and did not fulfil his last wishes. While his family is now being hounded and facing charges under UAPA.
Bhat also condemned and demanded an investigation of Ashraf Sehrai's custodial killing on 5th May 2021.
Draconian laws such as Public Safety Act (PSA), Unlawful Activities Prevention Act (UAPA), Terrorist and Disruptive Activities Act (TADA), Armed Forces Special Powers Act (AFSPA) are used to suppress the voice for Freedom of Kashmir from Indian Occupation.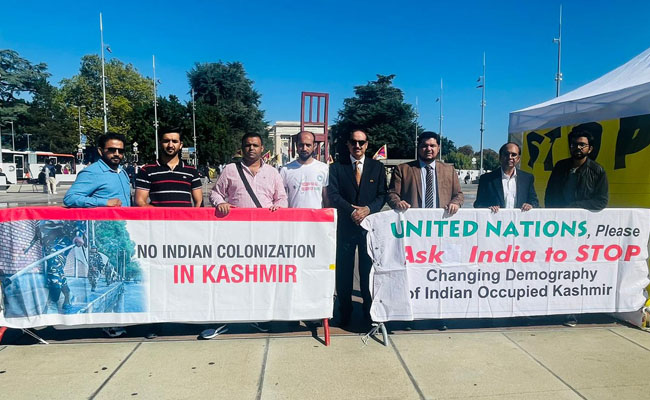 Since 1989 Indian armed forces have killed 95,861 Kashmiris, among them 7190 in custody, over 25,000 pellet gun injuries, 8,652 unmarked mass graves that have been identified in 89 villages of IIOJK, while 162,000 people were arrested under lawless laws such as the Public Safety Act (PSA) and Unlawful Activities Prevention Act (UAPA). Moreover, 11000 women were raped, and 110,000 houses were arsoned. Bhat added.
President Tehreek-e-Kashmir UK Fahim Kayani while addressing the protest said that Syed Ali Geelani's forced burial by Indian authorities is a non-democratic and shameful act. They even feared the dead Geelani, not letting the family members fulfil his last wishes.
The grave human rights violations perpetrated by India since 1989 tell us about the illegal occupation of Kashmir. Almost 100,000 people who lost their lives to Indian aggression still await justice, The mass rapes of Kashmiri women such as the Mass Rape of Kunan Pashpora still await justice for what Indian occupational forces have done to them. Fahim Kayani added.
President TeK UK Fahim Kayani further added that, Its high time India through diplomatic pressure at UN made to Conduct a "free and impartial referendum" under the auspices of the United Nations to determine the will of the people of Jammu and Kashmir, Uphold and respect the democratic verdict of the people of Jammu and Kashmir, end violence and demand the release of political prisoners and hold accountable perpetrators of crimes.
President Tehreek e Kashmir Italy Mehmood Sharif said that The Kashmir dispute may lead to a war between two nuclear powers: India and Pakistan, who have previously fought three wars.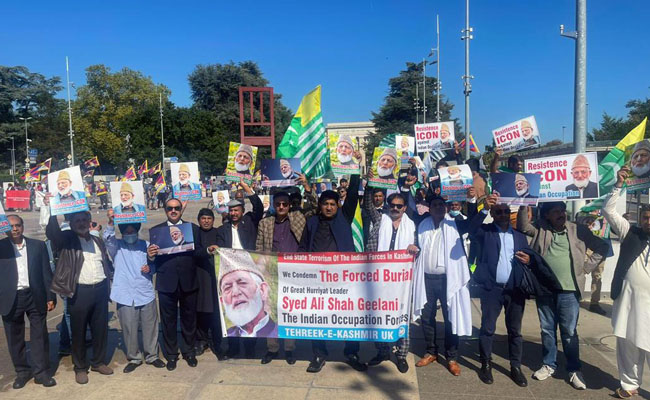 India has been committing Human Rights violations in IIOJ&K since its illegal occupation. About 471 known torture camps, one every 5kms, where 99% of detainees are tortured. While the occupational authorities hold Curfews on religious occasions, and most recently Demographic change initiated, a violation of International Law aimed at allowing non-resident hardcore Hindu's to settle down and purchase lands in Kashmir.
Ejaz Ahmed Tahir Ch President Tehreek e Kashmir Switzerland addressing the protest said that Kashmir cause is alive and vibrant, we will keep it alive internationally until Kashmir dispute is settled as per the aspirations of Kashmiris according to UN resolutions.
Nasir Shehzad Former President Tehreek-e-Kashmir Spain and Asif Rehman Secretary-General Tehreek-e-Kashmir Spain, Raja Saeed World Muslim Congress ,Babar Waraich , Vice President Tehreek-e-Kashmir Italy ,Jamshed Iqbal, Sec General Tehreek-e-Kashmir Italy ,Tanver Kadar, Qaiser Hayat Tarrar, Sajad Mehr, Qamar Riaz Khan, Raja Waseem ,Ghazanfar Dhoul un
also spoke on the occasion, denounced Indian aggression and HR violations in IIOJ&K, while demanded UNHRC to put pressure on India to stop HR violations and respect UN resolutions.