UK
Birmingham 2022 Queen's Baton comes home to Proud Host City for future display and legacy tour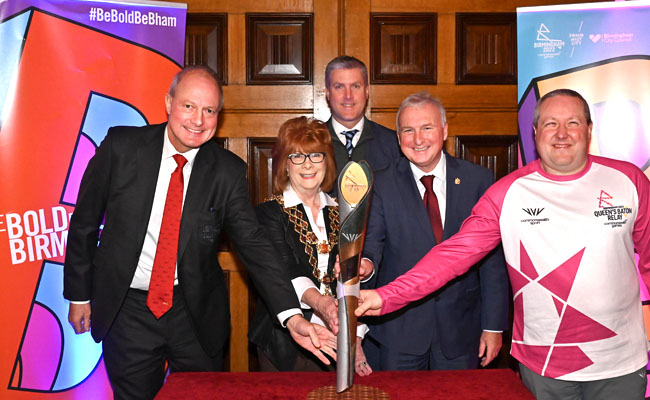 Birmingham: The Queen's Baton – an enduring symbol of the Birmingham 2022 Commonwealth Games – has been gifted to the city, with plans now being drawn up for it to go on public display and a legacy tour in 2023.
Proposals for the Baton to visit projects and neighbourhoods that received funding from the city council's £6million legacy fund were announced during a Birmingham 2022 "thank you" event hosted at the Council House last night (December 7).
Before then, the Baton, designed and made in Birmingham, is set to go on display at Thinktank, Birmingham Science Museum, in the new year. Full details will be announced in due course.
And final plans for the legacy tour will be confirmed in the coming months – it is expected it will be timed to coincide with the first anniversary of Birmingham hosting the Games in the summer of 2023.
The Baton was presented as a gift by former Commonwealth Games England Chairman Ian Metcalfe, on behalf of the Commonwealth Games Federation, to the city of Birmingham at last night's event, attended by representatives from the wide range of organisations that partnered with the council to bid for, plan and prepare for the hugely-successful Games.
In return, as a gift from the people of Birmingham, representatives from some of the 72 nations and territories that competed at the Games received their Flag of Nations oversized pin badges, which were part of the display seen by millions of visitors to the city's Centenary Square during the summer. They were presented by the Lord Mayor of Birmingham, Cllr Maureen Cornish.
Cllr Ian Ward, who spearheaded the Birmingham 2022 bid campaign before becoming a board member for the Games, said: "Since announcing our intention to bid for the Commonwealth Games six year ago, we've been on an unforgettable journey which led to this summer's spectacular showcase of everything good about Birmingham.
"I've said many times that the Games are the point at which people far and wide will acknowledge that Birmingham changed for the better – and we now have a Golden Decade of opportunity, which our Proud Host City status has undoubtedly opened the door for.
"The Games were only a success thanks to the way that everyone from residents to businesses and partner organisations all pulled in the same direction.
"Our thank you event was all about showing our appreciation and that will continue into 2023 and beyond through our plans to put the Queen's Baton on display and take it out into our communities as a way of demonstrating that the Games were made by everyone in Birmingham and were for everyone in the city.
"Thank you to everyone in our great city for what we have achieved through the Commonwealth Games and, despite the many challenges we all face at the moment, how that means we now have a much brighter future ahead of us."