Fashion
Pakistani women artisans producing unique art and craft: Mrs High Commissioner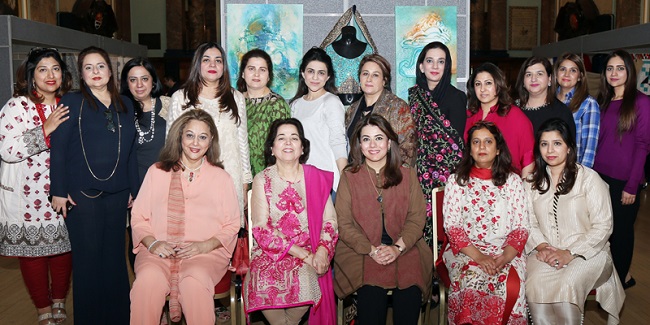 Mrs Sadaf Abbas, wife of the High Commissioner (centre, front row) with organisers and Pakistani artisans at Jashan-e-Huner at Chelsea Old Town Hall London
British Pakistani businesswomen Anita Ali in collaboration with Ms. Bashan Rafique and others have brought the exhibition to Chelsea Old Town Hall to showcase Pakistani art and crafts made by women, and to open up opportunities in Britain for these skilled artisans. The Pakistan High Commission London is supporting this event – which translates art, craft, skill or adroitness – and seeks to promote the work of Pakistani artists and craftswomen.
The artisans featured in the exhibition are exhibiting their work including clothing, jewellery, silverware, ceramics, paintings and embroidery.
The event was inaugurated by the wife of Pakistan's High Commissioner to UK Mrs. Sadaf Abbas. On the occasion, she stated that there are so many highly skilled and talented women artisans in Pakistan producing unique and high quality art and craft which needs to be promoted and encouraged. She praised the event organizers for arranging such an important event highlighting Pakistan's potential in yet unexplored handicraft market. She also assured the event organizers and the exhibitors of Pakistan High Commission's support the business community especially business women.
The exhibition is taking place at Chelsea old Town Hall from Monday from 22 to 24 May 2017. The Pakistani community is welcome to the exhibition to show their support to the designers from Pakistan.