World News
India has failed to suppress the Kashmir Freedom Movement, Fahim Kayani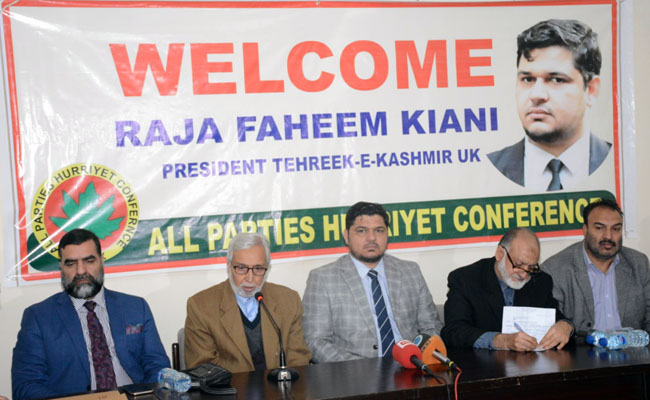 Islamabad: President Tehreek e Kashmir UK Raja Fahim Kayani has said that India has failed to suppress Kashmir Freedom movement,
Despite all the cruelty of India, the freedom movement is steadfast and strong.
Kashmiris have made unprecedented sacrifices for their freedom and self-determination and have struggled since 1947.
The sacrifices of Hurriyat Leader Syed Ali Gilani and other Hurriyat leaders will not go in vain, Insha Allah Freedom movement will succeed, and Kashmir will be liberated from India.President Tek Raja Fahim Kayani expressed these views at the reception held at his honour by All Parties Hurriyat Conference.Hurriyat leader Mohammad Farooq Rahmani Altaf Ahmad Bhat, Muhammad Shoaib Hussain Sheikh, Abdul Matin, Abdul Majid, Malik Daud Ahmed, Pervaiz Advocate, Ms Shamim Shal, Altaf Wani Nazir Ahmad Karnahi, Mohammad Zahid, Senior journalist Raja Bashir Usmani and others.
During his address, President Tehreek e Kashmir UK Raja Fahim Kayani said that, Kashmiris living abroad are trying to play their role as true ambassadors of freedom. Kashmiris with their sacrifices and commitment have defeated more than one million Indian troops, and Hurriyat Conference Leaders have fought a great struggle to which we salute the Hurriyat leadership.
"We are working for freedom as a Hurriyat activist. There are ten million Kashmiris abroad. After August 5, we did not sit idle at home for a moment". Kayani added On the 15th of August, the largest protest in the history of British history took place, in which more than forty thousand people participated.Thousands of people participated in the protests in other cities. We did not just protest but also held meetings with the British Lawmakers and informed them of human rights violations in occupied Kashmir."We have been raising voice on every platform, which was also heard in the European Parliament," he said
President Tek further said that there is a need to work for Kashmir freedom movement at every level.
Hurriyat Conference should sit together to set an agenda. We will move forward with this agenda to work in order because we have to work unitedly for the Kashmir movement.The Pakistani government should be active on the diplomatic front and the Kashmir cause should be promoted by consolidating Kashmir desks at Pakistan's embassies abroad. Raja Fahim Kayani said that we could arrange 100,000 people to the streets of London for Kashmir for protests and demonstrations.
Addressing the occasion the Hurriyat Conference leader Mohammed Farooq Rehmani said that Kashmir community has a very important role to play abroad and President Tek and his team are praiseworthy for their struggle for Kashmir Cause internationally. India plans to advance Hindutva philosophy in Kashmir. The global community should take steps to thwart India's tactics.
Senior Hurriyat leader Altaf Ahmed Bhat during his address said that Kashmiris have sacrificed more than what they had, and Kashmiris are the bravest nation of the world who are continuously fighting for the right of self-determination and freedom for their motherland. The hundreds of thousands of sacrifices given by Kashmiris will never go in vain, and sooner India will be kicked out of the region.
Appreciating and paying tribute to Tehreek-e-Kashmir UK under Raja Fahim Kayani Bhat said that, Tek team and its president Raja Fahim Kayani have given very strong momentum to the Kashmir cause internationally. People around the world are now coming out against India.
Hurriyat Leader Khateeb Hussain said that India has crossed the limits of atrocities, India must be stopped at all costs.
Leader Hurriyat Conference Abdul Majeed Malik appreciated the efforts and struggle of Tehreek e Kashmir Uk and Raja Fahim Kayani. Furthermore, he appreciated the struggle of President JKSM Altaf Ahmed Bhat for raising the voice of besieged people of Kashmir in the United Kingdom and Europe.
APHC leader Sheikh Abdul Mateen paid tribute to the role of Tehreek e Kashmir Uk and Raja Fahim Kayani for working on international fronts for Kashmir cause and raising the voice of Kashmiris in the British parliament.