UK
Over 1,000 new trees to be planted in the region as part of new Sprint scheme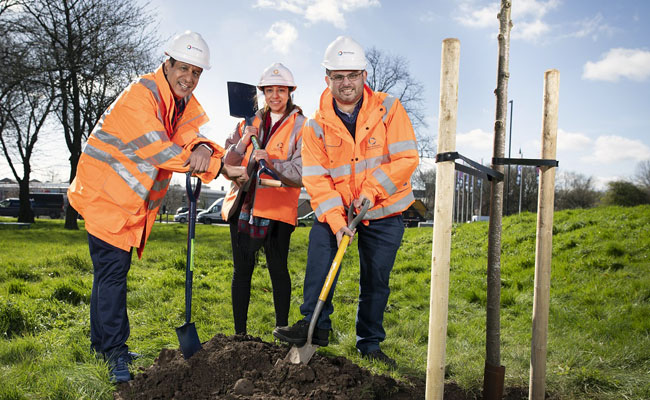 Cllr Zafar Iqbal (Tyseley and Hay Mills), Sprint assistant project manager Jasmine Maumi and cllr Waseem Zaffar, Birmingham City Council cabinet member for transport and environment
The first tree of over 1,000 committed along the route of Birmingham's first cross-city bus service, Sprint, has been planted.
Cllr Waseem Zaffar, cabinet member for transport and environment and cllr Zafar Iqbal, councillor for Tyseley and Hay Mills, planted the tree next to the A45 in Small Heath to show support for Transport for West Midlands' (TfWM) new bus route, which is set to be delivered in time for the Birmingham 2022 Commonwealth Games.
The Sprint scheme, now approved by Birmingham City Council's Cabinet, reflects the region's clean air policies and commitment to combatting climate change and as such, brings opportunity to increase the regions tree cover.
Planting new trees and increasing tree canopy cover along the Sprint route will offer a range of benefits to local communities across Birmingham, including the reduction of carbon emissions and a positive impact on health and wellbeing, as well as visual improvements.
The improvements to the route will see up to 12,728m2 of tree canopy coverage affected. To combat this and provide additional benefit, TfWM has committed to planting 1,156 new trees along the route.
After ten years these trees are expected to increase the original canopy coverage by 14% and at maturity, the canopy coverage is estimated to be nine times greater than coverage that current trees provide.
TfWM has been working with Birmingham City Council's expert horticulturalists and engaging community organisations such as Birmingham Trees for Life to develop a proposal that supports a 'green vision' for Sprint and sustainable transport in the region.
TfWM, which is part of the West Midlands Combined Authority (WMCA) will be working closely with local authorities, schools and community and wildlife groups to establish potential planting locations along the route and within the local community. Plans will also be made for recycling affected trees which will include building projects, habitat creation and outdoor learning.
Cllr Ian Ward, transport portfolio holder for the WMCA and leader of Birmingham City Council, said that Transport for West Midlands is ploughing unprecedented investment in new tram, rail, bus and cycling infrastructure, including Sprint, to revolutionise the way we travel around the region, reducing reliance on private cars and improving the air we breathe.
He added: "Earlier this year, Birmingham was recognised as one of the Tree Cities of the World and so we are proud to support a scheme that will help us in our goal towards a better connected and more sustainable region.
"We are looking forward to working with local communities across Birmingham to plant the new trees, we have a real opportunity to work together to make our city greener."
Cllr Waseem Zaffar, cabinet member for transport and environment at Birmingham City Council said: "The Sprint scheme will see the delivery of the first ever cross-city route for the region, providing a much-needed service for residents, commuters and visitors. "It is also the chance for the people of Birmingham to really get involved in the regeneration of their local areas.
"Our tree mitigation plans are an important part of delivering Sprint in a sustainable, green way. It will be key to achieving our vision of cleaner, greener and safer neighbourhoods across Birmingham."
The new Sprint bus route will offer a green, fast transport alternative that will run along the A34 and A45 between Walsall and Birmingham Airport and Solihull via the city centre.
To stay up to date with the Sprint project, sign up to the newsletter at tfwm.org.uk/development/sprint