UK
Quicker journeys and more reliable bus services on A34 and A45 in Birmingham following completion of Sprint's first phase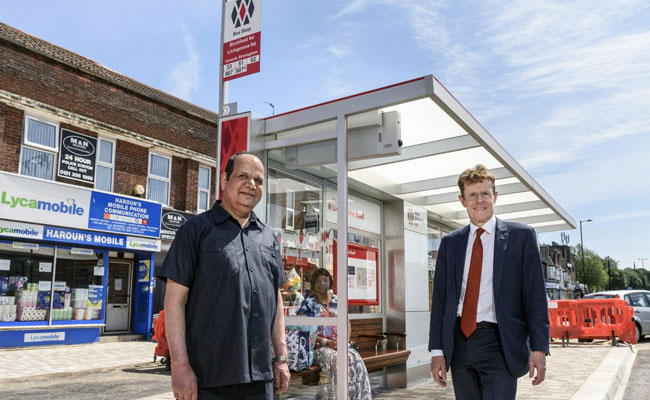 Cllr Chaman Lal (Birmingham City Council) and Mayor Andy Street pictured last year at the new Sprint shelter in Perry Barr
Midlands: Buses using the A34 and A45 in Birmingham can bypass traffic jams to offer passengers quicker journeys and more reliable services.
It follows the completion of dedicated bus lanes and junction upgrades from Walsall to Birmingham city centre along the A34 and from Birmingham Airport to the city centre along the A45.
The £88 million project, developed and delivered by Transport for West Midlands (TfWM), has also seen 76 new enhanced bus shelters, each including CCTV, installed along the entire route from Walsall to Solihull via Birmingham.
All buses using these routes, accounting for approximately 20 million trips a year, will benefit from quicker and more predictable services – cutting average journey times by 20 per cent along the A45.
And the new larger Sprint shelters have already proved a hit, achieving a 98% satisfaction rate in a passenger survey last month, with people particularly enjoying the live arrival information screens, lighting and comfortable design. For the first time there is now a bus stop at Poet's Corner on Small Heath Highway.
Among the first to benefit from the infrastructure will be special shuttle bus services for visitors attending Birmingham 2022 Commonwealth Games events at Alexander Stadium, the NEC and Birmingham city centre.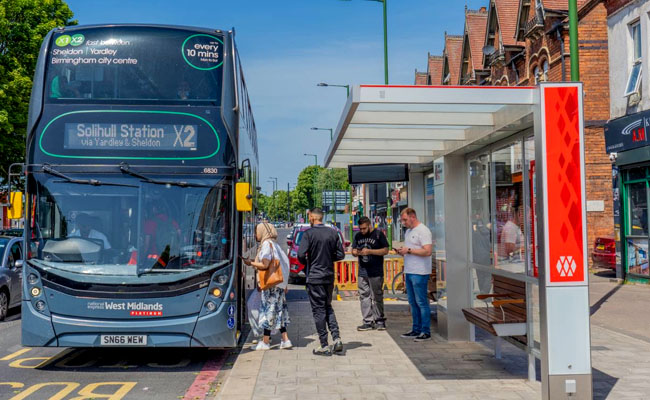 A new Sprint bus shelter on the A45 near the junction with Kings Road
Funding for the £88m first phase of the project included contributions of £42 million from the West Midlands Combined Authority (WMCA) investment fund and £35 million from the Department for Transport.
Andy Street, Mayor of the West Midlands, said: "Buses have been a real success story here in the West Midlands, and I am delighted we are continuing to invest substantially in the network with the first phase of our new Sprint plans now complete.
"This first phase is part of our overall package of investment with efforts already underway to continue to keep our fares amongst the lowest in the country, deliver more bus priority schemes, and introduce more zero emission buses as shown by the Coventry All Electric Bus City scheme.
"This particular set of new bus lanes and infrastructure has already started to make a meaningful difference for local residents who travel on the A34 and A45 – enabling quicker and more reliable journeys.
"It's particularly good news that we've got these upgrades done in time to serve those visiting us for the Commonwealth Games this summer, which will be so exciting for us all."
Cllr Ian Ward, WMCA portfolio holder for transport and leader of Birmingham City Council, added: "These new Sprint bus priority measures mean that passengers will not only save time on their journeys but, with more predictable timetables, spend less time waiting at bus stops.
"With phase 2 and the new hydrogen-fuelled vehicles to come we can look forward to much higher quality bus services in future – making it easier for people to leave the car at home."
The Sprint phase 1 construction was commended in the Environmental and Sustainability category of the Chartered Institution of Highways and Transportation (CIHT) Awards last month.