UK
UK, China and Pakistan resolve to work together on CPEC project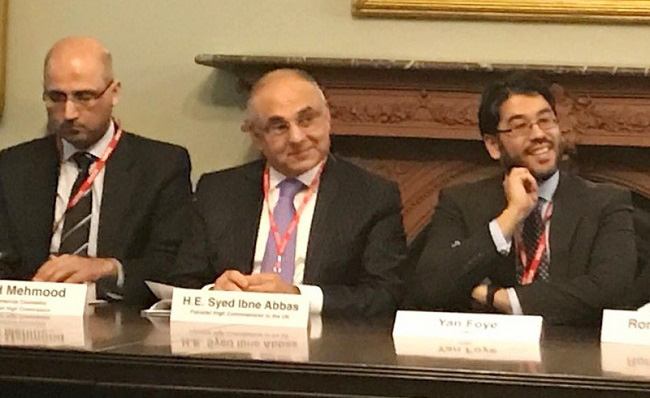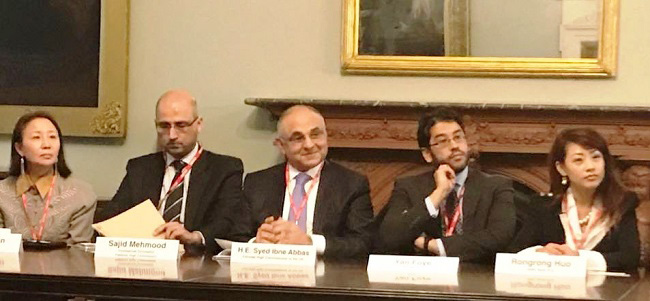 A Business round table on UK participation in the China Pakistan Economic Corridor (CPEC) – a flagship project of China's broader 'One Belt One Road (OBOR)' initiative- was organized by the Department of International Trade at Foreign & Commonwealth Office (FCO) London on 04 April, 2017.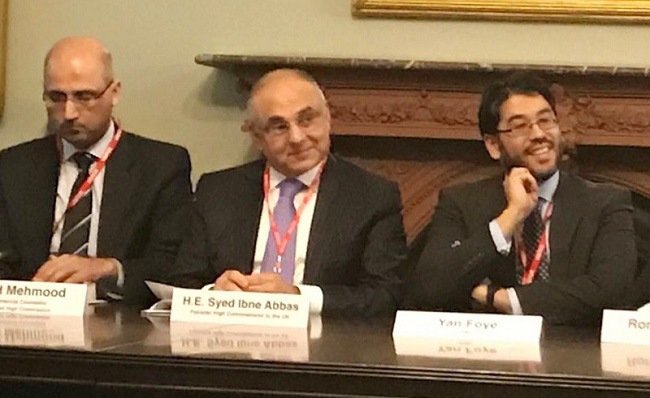 The meeting was attended by Rt Hon Greg Hands Minister of State for International Trade, H.E. Syed Ibne Abbas, Pakistan High Commissioner to the UK, H.E. Thomas Drew, British High Commissioner to Pakistan, H.E. Liu Xiaoming, Chinese Ambassador to UK, besides other senior officials of the three countries. Other Participants in the roundtable included experts from CityUK, RUSI and the China Britain Business Council. Businesses including HSBC, Deloitte and Standard Chartered also discussed how they and other British firms could support the delivery of CPEC.
The representatives of the three countries expressed their resolve to work together to implement the CPEC project successfully for the benefit of all the partners.
The UK has expressed its desire to become a key partner in CPEC, a collection of $54bn worth infrastructure projects due for construction throughout Pakistan, and this roundtable comes ahead of a larger CPEC conference in May hosted by the UK government and Royal United Services Institute (RUSI), to show how the UK's world-leading expertise in areas such as financial and professional services, and energy and infrastructure can support China and Pakistan's economic vision. In this context, British Minister of State for International Trade is planning to visit Pakistan in near future, to explore business opportunities and initiate trade dialogue.
International Trade Minister Greg Hands said: "Britain is a country of global influence and can be an important partner for China and Pakistan in the delivery of the China-Pakistan Economic Corridor which has the potential to build closer links between our countries.  We have a clear ambition to increase trade with both China and Pakistan and UK businesses are well placed to capitalise on the new opportunities in the region."
In his remarks on the occasion, the Pakistan High Commissioner stated that excellent ties between Pakistan and China are time tested and exemplary in state relations. On CPEC, he said that $54 Billion investment in four areas namely infrastructure, energy, Special Economic Zones and Gwadar port would give necessary impetus to Pakistan's economy, thus creating enormous opportunities for the global corporate enterprises. Strengthening trade and economic ties in the region and beyond, remains the central plank of Prime Minister Nawaz Sharif's vision of 'Peace for development' and 'peaceful neighbourhood'. In this context, the transformative CPEC is not only a game changer for Pakistan but for the entire region.
The High Commissioner also highlighted the successes which Pakistan has achieved in the economic front in the recent past which include 5.2% economic growth rate, achievement of 'emerging market' status by international credit rating agencies, declaration of Pakistan Stock Exchange as one amongst the 5 best performing stock exchanges of the world. He invited British investors and businesses to explore Pakistan for the business opportunities on account of its strategic location, resilient economy and growing consumer market. He also informed the participants about Pakistan High Commission's plan to hold an investment conference in September this year at Mansion House in collaboration with the Lord Mayor of London office.
The Chinese Ambassador stated that relations between Pakistan and China are mutually beneficial. He noted that Pakistan's geographic position, demographic dividend and economic potential would continue to give the CPEC a great advantage and would enable the Corridor to play a bigger role in promoting regional connectivity and cooperation. That in turn will contribute to regional peace, stability and prosperity, added the Ambassador. He further stated that the One Belt One Road initiative is open to all and so far more than 100 countries and International organizations have expressed support for this initiative. The Ambassador welcomed British Government's desire to participate in the delivery of CPEC and advised them to engage in dialogue to identify specific business opportunities; leverage British strengths especially in the services sector and take a long term view while making investment decisions in CPEC.
The CPEC is one of the more advanced corridors in China's 'One Belt One Road' initiative, seeking to replicate the ancient Silk Road trade routes with modern trading relationships and investments across Asia, the Middle East and into Europe. It has the potential to transform Pakistan's economy into one of the most advanced economies in the region.