UK
A buzz in the air as Wasps pledge to champion opportunities for the disabled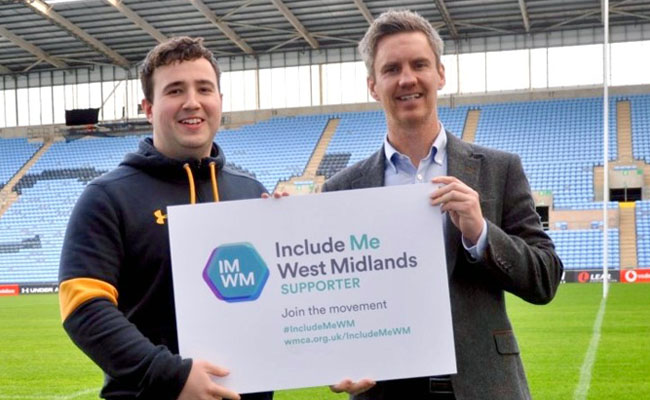 A top West Midlands-based rugby club and major sporting and events arena are the latest big names to pledge to make their services and stadium more accessible to disabled people.
The Wasps Group – which includes the famous rugby team and its home ground the Ricoh Arena in Coventry, along with Wasps Netball and the Wasps Community Foundation – have signed up to Include Me West Midlands.
Spearheaded by the West Midlands Combined Authority (WMCA) in partnership with Sport England and Activity Alliance, Include Me WM, provides organisations with a set of principles designed to support them to raise awareness of opportunities and make physical activity more appealing to disabled people by listening and understanding their needs.
Sean Russell, WCMA implementation director mental health, wellbeing and radical prevention, said: "We are delighted that the Wasps Group have signed the Include Me pledge.
"Big names like these are a massive endorsement of the initiative which has attracted more than 30 organisations since its launch earlier this year, all working hard to include the views of disabled people in their decision-making and service development towards enhanced inclusivity."
Stephen Vaughan, chief executive officer (Wasps Sport), said: "We are committed to being one of the most inclusive clubs in the region, both in terms of the community programmes we run and in improving our facilities and access so they can be enjoyed by everyone.
"We want to see how we can improve our offer and signing up to Include Me WM creates a superb chance to do that, to celebrate inclusivity with other organisations and to champion opportunities for disabled people."
The Aston Villa Foundation, University of Wolverhampton's WLV Sport, Sandwell Council, Midland Mencap, and UK Deaf Sport are among other organisations to have signed up to Include Me WM.
For more information about Include Me WM click here and follow the conversation on Twitter using the hashtag #IncludeMeWM.