UK
West Midlands Mayor praises bid to make bus fleet all electric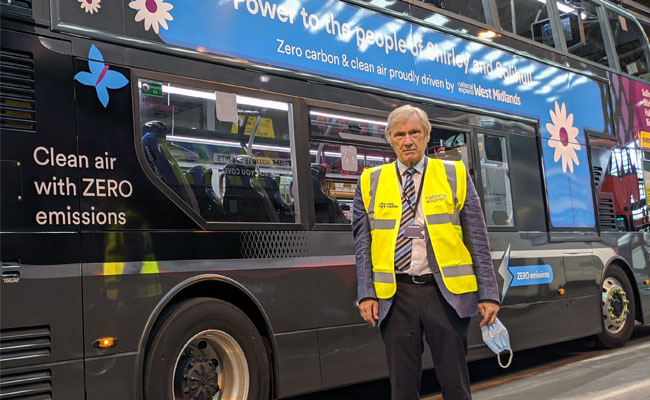 Cllr Ian Courts, WMCA portfolio lead for environment and energy, and leader of Solihull Metropolitan Brough Council viewing one of the electric buses that serves Solihull
Birmingham: The Mayor of the West Midlands, Andy Street, has marked Zero Emissions Day (21/09) by praising National Express for bringing the West Midlands a step nearer to having an all-electric bus fleet. National Express have been expanding their fleet of electric buses in the region – and recently pledged never to buy another diesel bus in the UK.
Currently the company has 19 electric buses in service in Birmingham and Solihull and ten running in Coventry to the university and the hospital.
In addition, the company is working with Transport for West Midlands and local authorities to make Coventry or West Bromwich an all-electric bus city or town respectively. By the end of the year they will find out the outcome of the bid to be chosen as Britain's first town or city to have only electric buses as part of a Government scheme to make fleets greener.
The West Midlands Combined Authority (WMCA) has set a target – #WM2041 – for the West Midlands to be carbon neutral by 2041 – an ambitious but vital goal that will support the delivery of the Government's national target for the UK to be carbon neutral by 2050.
West Midlands Mayor Andy Street said: "As Mayor of the West Midlands I'm working to ensure our energy is focused on bringing about a green energy future for the region.
"From support for new-high tech industries – such as our work to bring a battery Gigafactory to the region – to our recently relaunched regional 'Starley' cycle network, and our expansion of the West Midlands metro, our plan for the region is an environmentally friendly one. That's not just because clean energy helps secure the future of our planet, it's also because our plan will help secure high-skilled 'green' jobs of the future. That's why we set our ambitious #WM2041 target – and it's why these electric buses are an important step on our journey to reach it."
To make the change to electric National Express' 80-year-old Yardley Wood garage has been retrofitted with a shed-sized battery, a charging station for each bus and a system so engineers can monitor the buses' performance from screens up in the depot or on their laptops. The buses charge up in four hours and can run for 190 kilometres before needing another charge.
Tom Stables, Managing Director of National Express UK, said: "At National Express, zero-emission is not the future – it's the here-and-now.
"Cleaner transport is a key move towards fighting emissions and we are glad to play our part on Zero Emissions Day."
Cllr Ian Courts, WMCA portfolio lead for environment and energy, and leader of Solihull Metropolitan Brough Council said: "National Express is leading the way with their 'no more diesel powered buses' announcement. This is exactly the type of step change we need from all business sectors to meet the climate challenge.
"Not only will it help the West Midlands lead the way towards zero emissions and send a signal to the wider business community, but their actions will help to improve the air quality now and for future generations."
To further mark Zero Emissions Day WMCA is encouraging residents to help achieve #WM2041 by providing five easy tips for sustainable living. Throughout the week the Combined Authority will be highlighting how small changes to everyday life can have benefits such as cheaper home energy bills, healthier active transport alternatives to driving and cheaper occasional meat-free alternatives.
For more information on WMCA's five tips for sustainable living visit https://www.wmca.org.uk/what-we-do/environment/5-tips-for-sustainable-living/