World News
WKAF Condemns the Charges Against Political Activist Dr. Asif Dar and Mr Muzzammil Thakur by NIA of India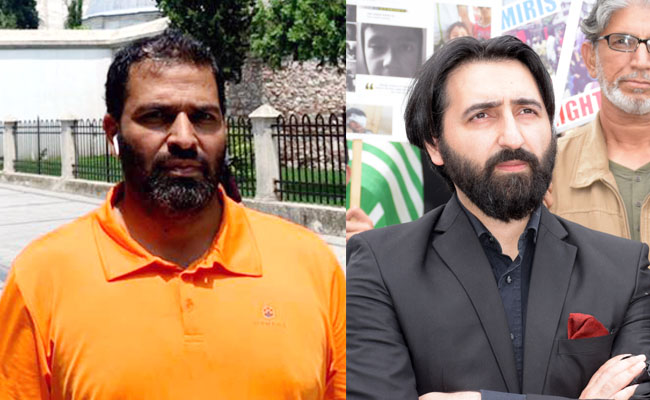 -World Kashmir Awareness Forum Calls on U.N. to Protect Activists and Free Speech-
Washington, DC (January 10, 2022) – The World Kashmir Awareness Forum (WKAF) issued the following statement denouncing the criminal case against Kashmiri political activists Dr. Asif Dar and Muzzamil Thakur:
"We condemn the fraudulent charges made against Dr. Asif Dar and Mr. Muzzammil Thakur by the Indian National Intelligence Agency (NIA). Dr. Dar is one of Kashmir's most accomplished and peaceful activists, an anesthesiologist, and role model for Kashmiri youth. Muzzammill Thakur is a London based human rights defender and political activist of Kashmiri ancestry.
On Thursday, January 6, Indian police registered a case against Dr. Dar and Mr. Thakur under the Unlawful Activities Prevention Act (UAPA), after two militants claimed to be working under their orders following a targeted killing. Dr. Dar is known for his peaceful resistance against India's colonialist occupation of Jammu & Kashmir and he remains a fearless supporter of Kashmiris' efforts to secure the right to self-determination. Mr. Thakur is a youthful and articulate public speaker on Kashmiris' right to self-determination with a large diaspora following on social media. Such baseless claims made by the Indian government are used to suppress the indigenous population's free speech and activists' efforts to relieve Kashmir from foreign occupation.
Actions taken by the NIA are politically motivated and are part of the Indian government's attempt to censor peaceful Kashmiri voices. The UAPA has been used countless times to harass, assault and imprison activists, political leaders and journalists who aim to expose the human rights violations committed by Indian forces. As human rights violations against the people of Jammu & Kashmir continue, it is important for activists like Dr. Dar and Muzzammil Thakur to continue to expose the atrocities committed by Indian forces to the rest of the world. We stand in fierce opposition to India's actions against Dr. Dar, Mr. Thakur and the people of Kashmir. We condemn any restriction of free speech and expression throughout the region.
It is imperative we stop the Indian government's attack on free speech in Kashmir and we urge the United Nations and international community to ensure that rights activists, political leaders, and local journalists are not forcibly silenced for speaking the truth. Dr. Dar's and Mr. Thakur's passion for resistance against the occupation continues to be an inspiration for Kashmiri youth and resistance activists. On behalf of Kashmiris, domestic and abroad we demand that all charges against Dr. Dar and Muzzammil Thakur are dropped and the Indian government is held accountable for another unjustified case of censorship and imprisonment under the UAPA."