Articles
India did not qualify as a non-permanent member of Security Council under Rule 143 of Rules of Procedure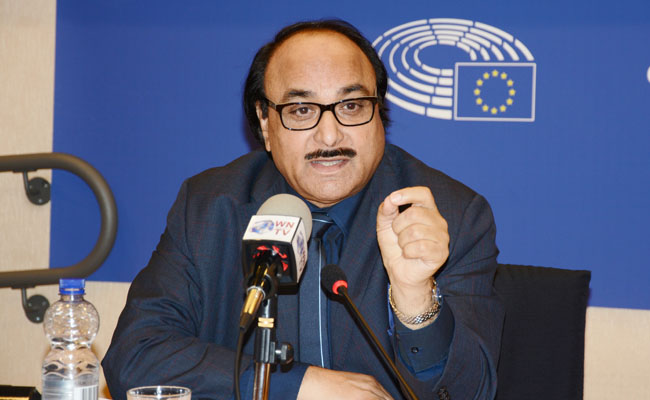 Written by: Dr. Syed Nazir Gilani
People in Pakistan are extremely hurt to find that India has been elected for a two year term as one of the five non-permanent members, elected each year under rule 142 of the Rules of Procedure of General Assembly. People of Kashmir are aggrieved that a country that has aggressed against them, has reoccupied their habitat and is holding them at a gun point from 5 August 2019, should have been allowed an uncontested election, to a body, where she would hurt the cause of Kashmir. 
Social media is flooded with anger to note that Pakistan has voted in her favour. Dr. Syed Alim Adeeb a senior Pakistani journalist based in USA, who has been covering the UN for many years, made a strong case against Indian election, in Zaman Nama TV show, hosted by a senior Kashmiri journalist Khurshid Uz Zaman Abbasi also based in USA. 
There are legitimate reasons to differ from the interpretation of UN Resolutions on Kashmir Case offered in the show.  It had merit and remains a guide for all those interested in the rights movement of the people of Kashmir.  Although the host steered the show well, yet, his references to UN Security Council Resolutions as "terminated and abolished", are not correct. Unreliable understanding of UN Resolutions, could hurt the cause more, than increment the constituency of benefit. India wants to keep away from UN Resolutions and there should be a reason for this running away.
The question remains what are the merits of Indian election to UN Security Council as a non-permanent member for two years and what have been the merits and demerits of Pakistan vote. The anger on social media is directed at Pakistan's foreign policy and it is being debated as a failed foreign policy. The present situation in Kashmir has made the anger very intense. Should we be angry with Pakistan? The answer is "no" and "yes".
Ten non-permanent members are elected by the General Assembly for a term of two years from four regional distributions. India was elected on Wednesday 17 June as non-permanent member of the UN Security Council for a two-year term after winning 184 votes in the 193-member General Assembly. India was a candidate from the Asia-Pacific category for the 2021-22 term. India was a sole candidate for the lone seat from the Group. 
India was endorsed unanimously by the 55-member Asia-Pacific Group, including China and Pakistan, in June last year.  Pakistan in principle has stayed with the Asia-Pacific Group's candidate and necessarily not with India. The anger is based on a misunderstanding or non-knowledge of UN General Assembly Procedure used in the election of non-permanent members of UN SC.
Pakistan may have remained with the Asia Pacific Group and voted accordingly, but Pakistanis and Kashmiris feel angry and let down. Pakistan has an overriding duty to weigh its diplomacy, against its commitments to the people of Kashmir. Pakistan has misdirected itself in the process on two counts since June 2019. Pakistan reiterates at all levels of civil and military leadership that it would continue to offer political, diplomatic and moral support to the people of Kashmir. Therefore, while voting, Pakistan failed to explain its vote and remain on the side of the Kashmiri grievance.
The other misdirection is rooted in the Kashmir policy, which continues to remain in a mess even today. We have tried a collective political resistance and a strong armed resistance against India. We failed because, we did not mean to oust India. It was a touch and go engagement, at the cost of an unprecedented loss of a generation, loss of honour and now re-occupation on 5 August 2019 and unlawful dismembering of the State into Union Territories. One is convinced to agree with all those who lament the decision of having voted for India. 
India may have been a legitimate candidate under rule 142 of Rules of Procedure of the General Assembly, it did not qualify as a candidate under Rule 143, which reads "In the election of non-permanent members of the Security Council, due regard shall, in accordance with Article 23, paragraph 1, of the Charter, be specially paid, in the first instance, to the contribution of Members of the United Nations to the maintenance of international peace and security and to the other purposes of the Organization, and also to equitable geographical distribution."
India attracted a disqualification and deserved a challenge under rule 143 of rules of procedure. Pakistan had three UN reports against Indian Human Rights Record in its administered (now re-occupied) part. One fails to understand, what is Pakistan's Kashmir policy and who are the Kashmiris involved in it. There is a genuine feeling that Pakistan has failed to involve credible, knowledgeable and accredited Kashmiris in its Kashmir policy. The constituency of a sinister suspicion and mistrust is growing every hour.
The question is, why did not Pakistan engage with 55-member Asia-Pacific Group and China in particular well ahead of election date and explain to them, the Indian military action in its administered part of Kashmir, which is a clear violation of UN Security Council Resolution of 30 March 1951. Pakistan should have let loose its hell of Government and people's diplomacy against India y since 6 August 2019.
Pakistan could have short listed Kashmiris working on Kashmir and diverted funds from Kashmir Committee and asked Government of Azad Kashmir to contribute and facilitate these people to engage with as many as possible members of UN General Assembly in their capitals. United Nations General Assembly appoints the UN High Commissioner for Human Rights. India had rejected the two reports done by High Commissioner for Human Rights. 
Therefore, General Assembly had a serious grievance against and an issue with India. We have buried our heads in the sand and wish to run the rights movement, like any other department of the Government. That is wrong. It is a disservice to the rights movement of the people of Kashmir.
The author is President of London based Jammu and Kashmir Council for Human Rights – NGO in Special Consultative Status with the United Nations.