Politics
Fahim Kayani laid the foundation of Kashmir virtual diplomacy, Sardar Masood Khan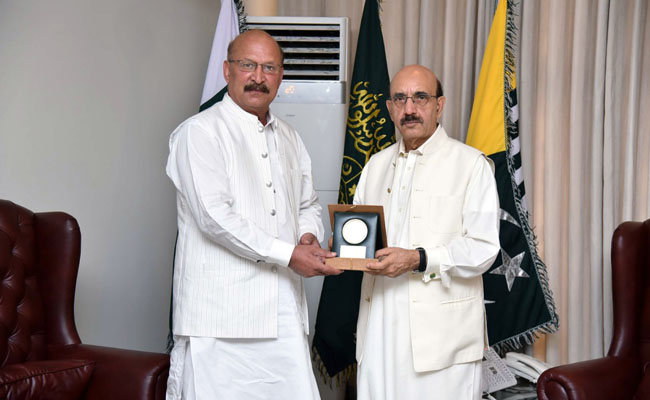 London: The State of Azad Jammu and Kashmir honours Raja Fahim Kayani President Tehreek-e-Kashmir UK by giving the title of Pioneer of Kashmir Virtual Diplomacy for laying the foundation for Virtual Diplomacy to highlight the Kashmir cause globally during the pandemic in 2020.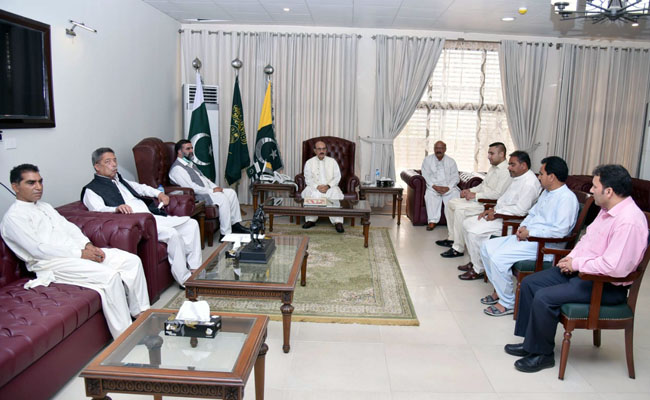 Sardar Masood Khan President of AJK gave Presidential awards and certificates to President of Tehreek-e-Kashmir Europe , Muhammad Ghalib and President of Tehreek-e-Kashmir UK ,Fahim Kayani in recognition of their services for Kashmir cause at award distribution ceremony held in the President House, muzzafarabad. The awards were received by Waqar Aslam Kayani and Arshad Kayani on behalf of Muhammad Ghalib, President TeK Europe and Fahim Kayani, President TeK UK respectively. The recognition letter of pioneer of Kashmiri Virtual Diplomacy was received by Awais Kayani on behalf of Fahim Kayani President Tehreek-e-Kashmir UK.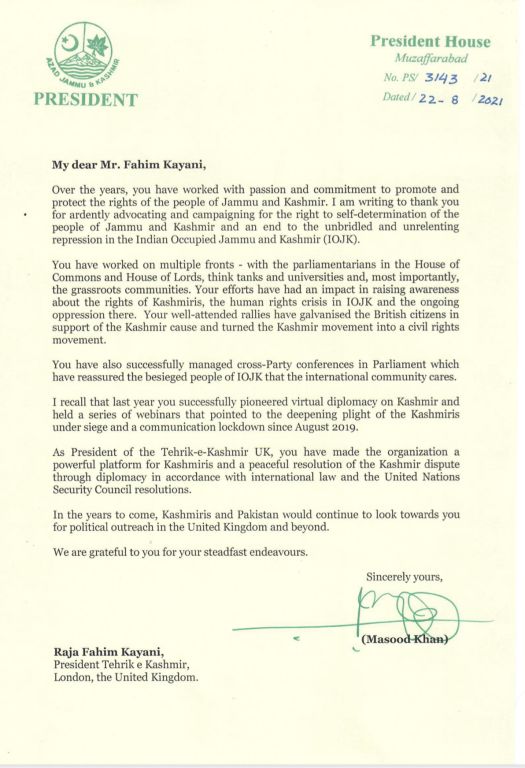 Sardar Masood Khan President of AJK said in his letter written to Fahim Kayani that over the years, President Tehreek-e-Kashmir UK , Fahim Kayani worked with passion and commitment to promote and protect the rights of the people of Jammu and Kashmir. Fahim Kayani have worked on multiple fronts -with parliamentarians in the House of Commons and House of Lords , think tanks and universities and, most importantly the grassroots communities. Tehreek-e-Kashmir UK well attended rallies have galvanised the British citizens in support of the Kashmir cause and turned the Kashmir movement into a civil rights movement.
Fahim Kayani have also successfully managed cross party conferences in Parliament which have reassured the besiege people of IOJK that the international community cares .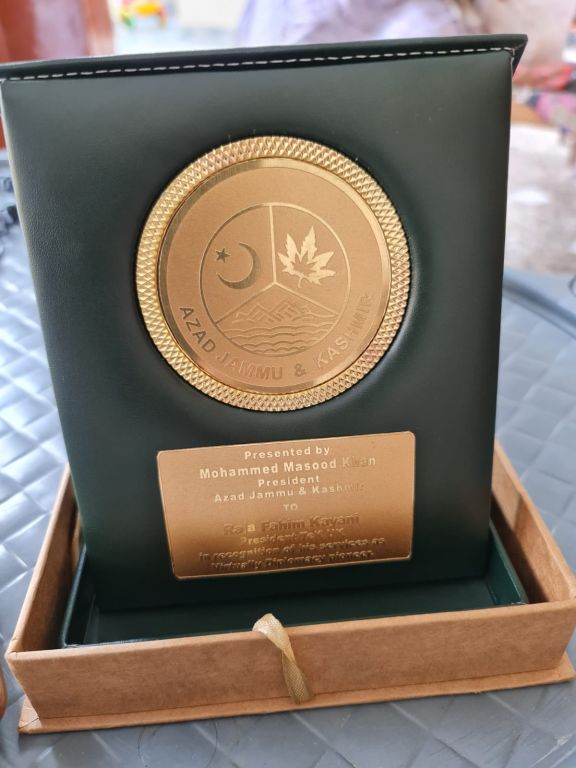 President of the Tehreek-e-Kashmir UK, Fahim Kayani successfully pioneered virtual diplomacy on Kashmir and held a series of webinars that pointed to the deepening plight of the Kashmiris under siege and a communication lockdown since 2019.
As President of the Tehreek-e-Kashmir UK, you have made the organisation a powerful platform for Kashmiris and a peaceful resolution of the Kashmir dispute through diplomacy in accordance with international law and the united nations security council resolutions.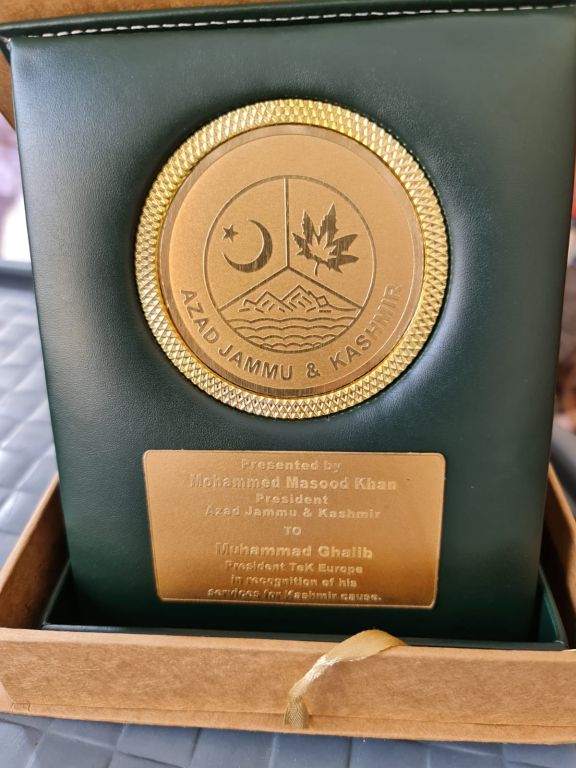 in the years to come, Kashmiris and Pakistan would continue to look towards you for political outreach in the United Kingdom and beyond. "
The great Hurriyat Leader Altaf Ahmed Bhat along with prominent journalists Aslam Mir & Tariq Naqash attended the award ceremony on special invitation of The President AJK. Altaf Ahmed Bhat Chairman JK Salvation Movement also appreciated the efforts of Fahim Kayani President TeK UK & Muhammad Ghalib President TeK Europe since 5th August 2019, especially during the pandemic crisis for bringing the Kashmir issue to light on the international agenda for the world continue to work to save the lives of the suffering Kashmiris in the hands of the Indian occupational forces in IOJK specially the political prisoners locked in India with severe Covid 19 crisis.