UK
Human rights abuses can't go unchallenged': Kashmir moot in UK seeks end to Indian occupation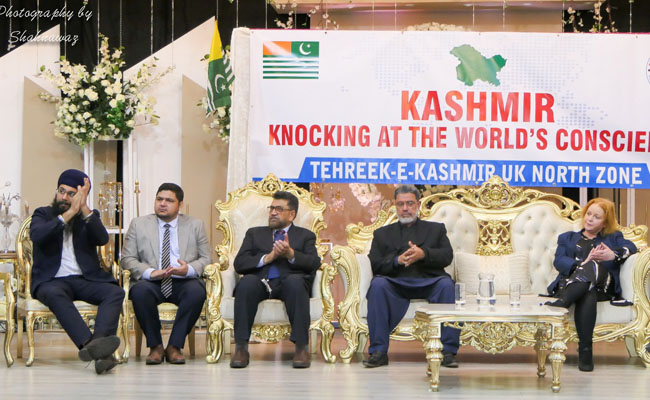 BRADFORD – Human rights abuses cannot go unchallenged as India is engaged in demographic terrorism in Kashmir in violation of Geneva Convention, speakers said at a conference here on Sunday.
"I stand shoulder to shoulder with the people of Kashmir in defending human rights," British lawmaker Judith Cummins told one-day conference "Kashmir Knocking at the World's Conscience", hosted by Tehreek-e-Kashmir North Zone in Bradford.
Extending "peaceful and diplomatic" support to facilitate right to self-determination of Kashmiris, Cummins said: "I will not stand by and see human rights abuses unchallenged wherever they occur."
The conference was also addressed by Dr. Khalid Mehmood, chief of Jama'at-e-Islami Azad Jammu and Kashmir and Gilgit Baltistan, who was chief guest on the occasion.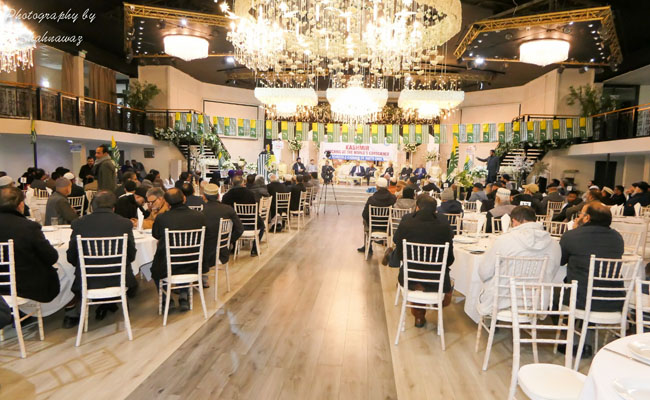 Tehreek-e-Kashmir UK said the conference was a reminder to the international which has turned blind eye to the Kashmir issue.
"The inaction of the world community over human rights abuses in Indian Illegally occupied Jammu and Kashmir (IIoJK) encourages India to commit more human rights violations to crash peaceful movement of Kashmiris for right to self-determination," the UK-based Kashmiri diaspora group said.
"Modi is committing demographic terrorism in Kashmir and attempting to change Muslim majority state of Jammu and Kashmir into Muslim-minority state of Jammu Kashmir which is violation of 4th Geneva Conventions," the organization said.
The conference was presided by Fahim Kayani, president Tehreek-e-Kashmir UK.
Dr. Khalid Mehmood said the UN Human Rights Council published two reports on IIoJK but India denied giving access to rights watchdog to Kashmir.
"Modi's fascism will push this region to nuclear war if this dispute is not resolved. It is the responsibility of the world community to resolve the Kashmir issue in peaceful manner," said Mehmood.
British Shadow Minister Imran Hussain told the conference he "will continue raising our voices against injustices, human rights abuses taking places in Indian-occupied Kashmir."
"We will never leave alone our Kashmiri brothers and sisters," he promised.
Lord Wajid Khan said blood of Kashmiris "is not cheaper than the blood of any nation."
"Double standards of the world powers to the Kashmir dispute are condemnable.
"We appreciate Tehreek-e-Kashmir efforts for taking this issue to power corridors," he told the conference.
Fahim Kayani, Tehreek e Kashmir UK leader, urged the UK government to throw away the "cover of bilateralism" as the Kashmir dispute was not bilateral issue between India and Pakistan.
"It is matter of right to self-determination of millions of Kashmiris," he said, adding: "The Kashmir dispute is unfinished agenda of the partition so it is responsibility of the UK to play its role in resolving this issue."
Hurriyat Leader Nazir Ahmed Qureshi said we will never never surrender and we will never compromise on our fundamental right to self determination.
Muhammad Ghalib, president Tehreek-e-Kashmir Europe, said the demographic changes in IIoJK "are paving the way for third genocide of Kashmiris."
Condemning India for her crimes in IIoJK, Gurpreet Singh of World Sikh Parliament said India was using "rape as a weapon of war" in IIoJK.
"We must not forget Kunan Poshpora mass rape victims," he said. "Sikh nation can understand pain of Kashmiris because we are facing brutal policies of Indian government."
Councillor Susan Hinchcliffe, Leader of the Bradford Council, Raja Najabat Hussain chairman right to self-determination movement,
Hafiz Muhammed Azad Secretary General Tehreek-e-Kashmir UK, former councillor Muhammad Mukhtar also addressed at conference and condemned human rights violations committed by Indian army in IIoJK.
Kayani, Tehreek-e-Kashmir UK president, thanked organizing committee Sardar Abdul Hafeez Khan, Muhammad Raza, Ishtiaq Ahmed, Ch Muhammad Yasin, Hafeez Ullah Gondal, Eng. Muhammad Yousaf, Raja Muhammad Azad , Raja Muhammad Azad and Mujahid Hussain for putting their efforts for organizing successful conference.