UK
Interior Minister Ahsan Iqbal meets Home Secretary Amber Rudd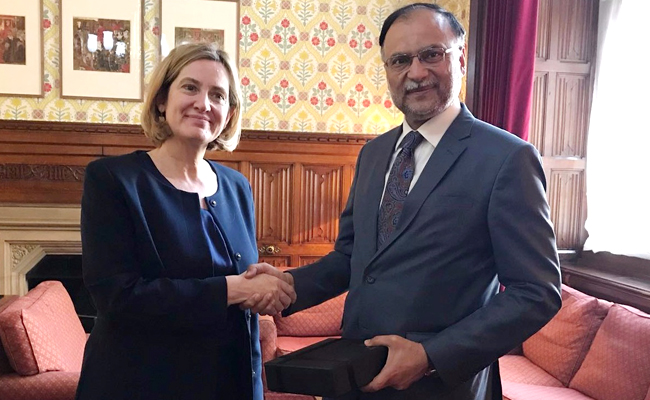 Interior Minister Mr. Ahsan Iqbal Chaudhary, who is in London to attend the CHOGM 2018, met British Home Secretary Rt. Hon. Amber Rudd MP at the House of Commons on 17 April 2018. The Interior Minister was accompanied by H. E. Syed Ibne Abbas, Pakistan High commissioner to the UK. The two sides discussed a wide range of issues of mutual interest.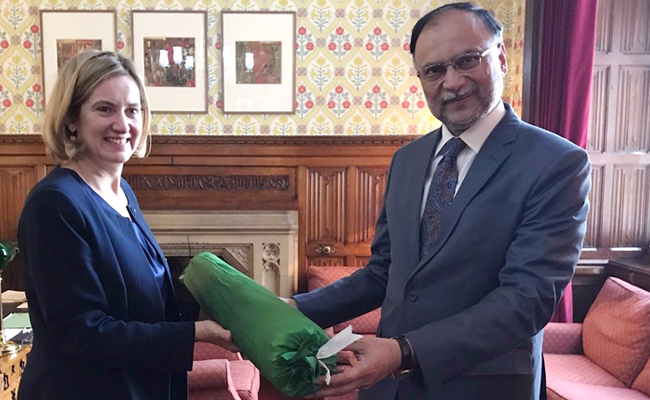 Minister Chaudhary briefed Secretary Rudd about Pakistan's successful fight against terrorism and the sacrifices rendered to eliminate the menace. The way forward, he stressed, was to engage the community with a view to generating community ownership of the counter terrorism efforts, augmented by law enforcement agencies and security forces.
Underscoring that the UK considers Pakistan an important partner in all areas, and mentioning her visit to Pakistan last year, Secretary Rudd expressed her desire to further enhance cooperation between the two countries.
Both sides agreed to continue their ongoing security cooperation noting that there was tremendous potential for further expansion, especially in terms of capacity building and technological up-gradation. They acknowledged the growing menace of drugs, its linkages with terrorist financing, and resolved to share experiences and explore avenues for further cooperation in this area.
The Interior Minister highlighted human rights abuses in Indian Occupied Kashmir, including murders, torture, rapes as an instrument of war.