UK
Poets, planters and painters praised for making railway stations more pleasant places to visit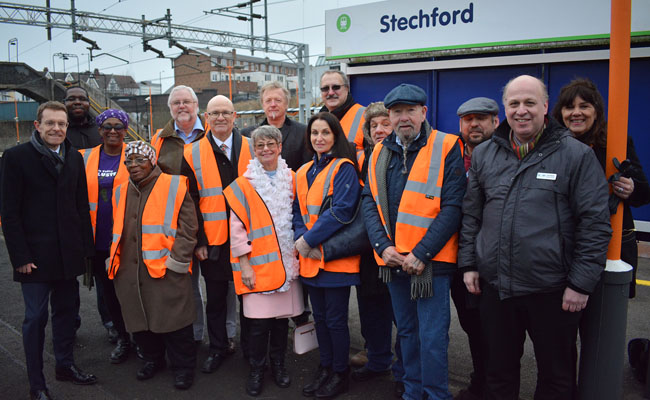 Commuters at a Birmingham railway station got a surprise when they were serenaded by a Black Country poet during a visit from the Mayor of the West Midlands.
Poet Steve Pottinger was in Stechford to present his poem 'Pride of Place' which celebrates the work of dedicated community volunteers who are transforming their local stations across the West Midlands.
Volunteers at Stechford and Coseley, like many groups across the region, make a real difference to their stations by giving the buildings a lick of paint, installing art works, landscaping the grounds and bringing community presence to the station platforms.They're making visits to the station a more welcoming and enjoyable experience for passengers.
Steve Pottinger of the renowned Black Country group 'Poets, Prattlers and Pandemonialists' composed 'Pride of Place' to celebrate the work of volunteers like those at Stechford Station. This celebratory ode will be used in a volunteer recruitment campaign by West Midlands Railway.
The poem highlights how the work of station adoption groups can impact on passengers:  "…putting a spring in your step and pep in your paces".
Mayor of the West Midlands Andy Street thanked the Stechford and Coseley groups and encouraged others to consider volunteering at their local station.
The Mayor said: "I was delighted to be able to thank in person the volunteers who are working hard to transform Coseley and Stechford railway stations. I am sure their excellent efforts are also appreciated by the many rail passengers who use the station daily.
"A number of stations, from Coseley to Olton, have been improved by groups. There are many ways in which volunteers can help, from creating brilliant artwork to organising local pop ups and hosting coffee mornings."
Station adoption groups are springing up right across the region and West Midlands Railway is looking for volunteers for community activity and station adoption schemes across its entire network of 114 stations.
Neil Langford from the Coseley station volunteers said: "We wanted to make the station look good by getting rid of the trees, the privet and the weeds that were there and planting some really nice flowers, making it look colourful.
"It's open to everybody, children have been planting bulbs. People's mornings are a lot brighter by seeing our flowers."
Faydene Gildings-Grant from the Stechford Neighbourhood Forum said: "Our aim is to make Stechford beautiful and we adopted the station as the entry into Stechford."
The group started with some hanging baskets but are now working with West Midlands Railway and looking at more ambitious plans for the future.  "We want to do something fantastic here," she added.
Fay Easton, head of community and stakeholders at West Midlands Railway, said: "As well as benefitting commuters and passengers, station adoption schemes also help the volunteers themselves.  Joining such a group can help locals meet new people, tackling loneliness and bringing a community together."
The call comes as the train operator has launched its Cross City Heroes campaign, to recognise community achievements along the region's busiest commuter route through Birmingham.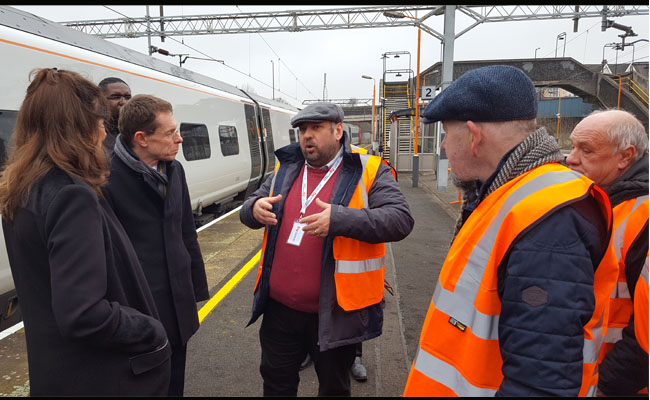 Neil Langford tells Mayor for the West Midlands Andy Street about the volunteer work at Coseley Station
Community engagement is being backed by the West Midlands Rail Executive (WMRE) which is responsible for leading the transformation of rail in the region.
Cllr Roger Lawrence, WMRE chair and leader of the City of Wolverhampton Council, said: "We are working with West Midlands Railway to involve local communities in activities at our railway stations. Not only does this benefit the community and rail travellers, but the volunteers gain lots out of it too. We are also creating opportunities for community participation in planning, designing and delivering the new stations in our West Midlands Rail programme."
For more information about station adoption and community activities at railway stations across the West Midlands, visit https://www.westmidlandsrailway.co.uk/adopt-station
For more information on Cross City Heroes go to https://www.westmidlandsrailway.co.uk/crosscityheroes