World News
Myanmar editor faces life in prison for publishing interview with insurgent group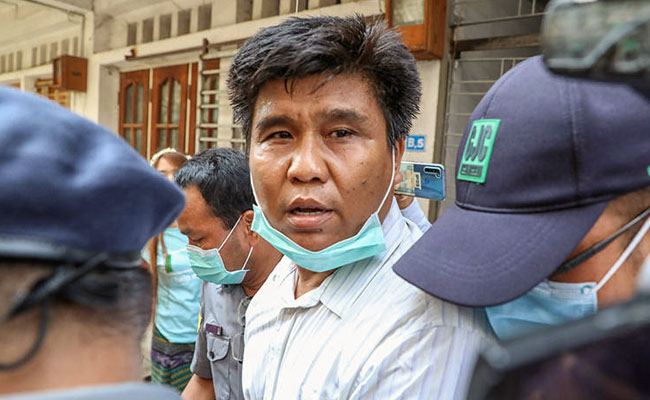 Bangkok, March 31, 2020 — Myanmar authorities should immediately release journalist Ko Nay Lin and drop all charges against him, the Committee to Protect Journalists said today.
Police arrested Ko Nay Lin, editor of the English and Burmese-language Voice of Myanmar news website, at about 9:30 p.m. yesterday, at his home in the central Myanmar city of Mandalay, according to local independent news website The Irrawaddy.
Today, the Chanmyathazi Township Court charged Ko Nay Lin under Articles 50(a) and 52(a) of Myanmar's Counterterrorism Law, according to that report. The charges stem from a March 27 interview in Voice of Myanmar with a spokesperson of the Arakan Army insurgent group, which the government designates as a terrorist organization, according to French broadcaster Agence France-Presse.
If convicted, he could face a fine and 10 years to life in prison for damaging the security of the public under Article 50(a), and up to seven years in prison for "knowingly participating in a terrorist group" under Article 52(a), according to The Irrawaddy.
The first court date in the case is set for April 9, according to The Irrawaddy. He remains in police custody, according to that report.
"Myanmar authorities must immediately release journalist Ko Nay Lin and drop all charges against him," said Shawn Crispin, CPJ's senior Southeast Asia representative. "Reporting on armed conflict is not the same as being a terrorist, and threatening a journalist with life in prison is inexcusable. Myanmar's assault on journalists must stop now."
Ko Nay Lin's wife, Zarni Mann, told AFP that police confiscated his laptop during the arrest.
The charges were filed at the Chanmyathazi Township Court by Mandalay Special Branch Police, according to those news reports. CPJ called that police branch's office for comment, but no one answered the phone.
Earlier this month, the Myanmar military filed a criminal defamation complaint under Article 66(d) of the Telecommunications Law against The Irrawaddy Burmese language editor Ye Ni over his outlet's coverage of armed clashes between government forces and Arakan Army fighters, as CPJ documented at the time.
On March 8, the military filed a similar complaint against the Reuters news agency over its coverage of the conflict in Rakhine state, as CPJ documented. A Reuters spokesperson said that the news agency stood by the reporting and there was "no basis" for the complaint.