UK
Commerce Minister Naveed Qamar meets leading investment firms at the Pakistan High Commission, London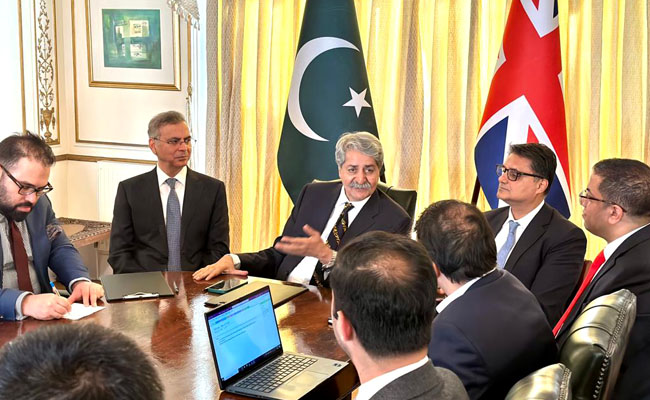 London: Minister for Commerce Mr. Naveed Qamar held a productive meeting with the leading investment firms at the Pakistan High Commission, London on June 05, 2023. High Commissioner Moazzam Ahmad Khan and Additional Secretary Commerce, Mr Ahsan Ali Mangi accompanied the Minister in the meeting. The investment firms deal primarily in equity financing, fintech, startup and venture capital funds.
The objective of the meeting was to explore future investment potential of Pakistan, leverage available opportunities, and foster economic partnerships with the public and private sectors of Pakistan.
The meeting witnessed the presence of senior officials of investment firms, including Franklin Templeton, Amundi Asset Management, Neuberger Berman, Ashmore, Wellington Capital, HSBC, ANB Capital Riyadh, Saudi Aramco, BlueBay, Jefferies, Sturgeon Capital, KASB K Trade, EFU Life, and TTB Partners. Their participation highlighted the growing interest and confidence in Pakistan's investment potential, reflecting the country's emerging position as an attractive destination for global investors.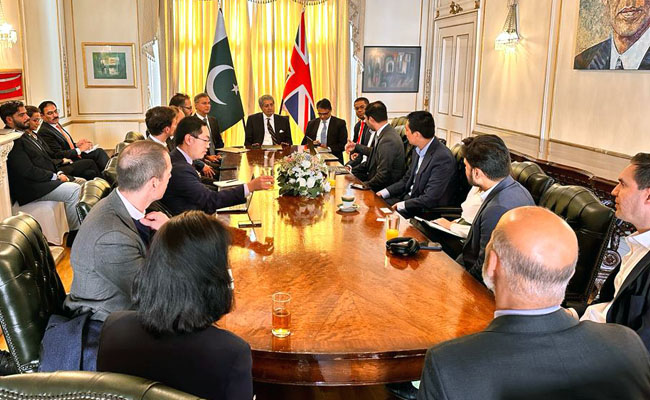 During the meeting, Minister Naveed Qamar engaged in constructive discussions with the participants, emphasizing government's commitment to providing a conducive investment climate and facilitating foreign direct investment (FDI) in Pakistan. He responded to various queries asked by the attendees about investment regime of Pakistan in detail. The Minister also highlighted the significant economic reforms undertaken by the government to enhance ease of doing business and ensure a secure and profitable environment for investors.
Minister Qamar provided a comprehensive overview of Pakistan's key investment sectors, including energy, infrastructure development, manufacturing, agriculture, information technology, and financial services. He underscored the country's strategic location, skilled workforce, and market potential as compelling factors for investment.
The meeting served as a valuable platform for open dialogue, exchange of ideas, and exploring potential investment projects for foreign investment companies.