UK
Taskforce to revitalise town centres to be headed by finance chief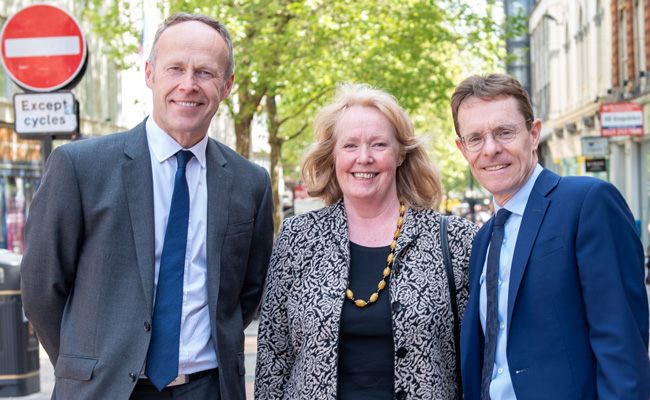 L-R Jon Bramwell, chair of the Regional Town Centre Task Force, Patricia Willoughby, head of policy – housing and regeneration at the WMCA, and Mayor of the West Midlands Andy Street 
A regional task force set up to breathe new life into struggling town centres is to be headed up by a prominent finance chief.
Jon Bramwell, a managing director at HSBC Commercial Banking, has been appointed chair of the Regional Town Centre Task Force which will offer expert guidance on projects that can revitalise local high streets.
Projects include those being supported by £20 million of investment from the West Midlands Combined Authority (WMCA).
The funding has been set aside by the WMCA to help accelerate local authority plans by unlocking land for regeneration – initially in five town centres: Bilston, St Thomas Quarter in Dudley, Bordesley Green in Birmingham, St Matthews Quarter in Walsall and West Bromwich (East).
The idea is to stimulate town centres which have suffered in recent years following a downturn in footfall as consumers turn to out-of-town outlets and online shopping.
High streets have also been hit by a spate of recent big-name store closures. BHS, Poundworld, Maplin, Marks & Spencer, New Look, Mothercare and Debenhams have all recently announced planned closures or have already closed down, leaving vacant units in key locations as a visible sign of high street decline.
Jon, who has worked in the financial services sector for more than 30 years, was welcomed into his new role with the task force by Mayor of the West Midlands Andy Street.
The task force will be made up of experts from retail, finance, housing, universities and Government. They will share their knowledge and lend support to the town centre programme.
"Strong, vibrant, healthy and inclusive town centres are an essential part of the West Midlands' economy and social fabric," Jon said.
"The role of this task force is to champion our town and city centres, explore and influence the national agenda and help support local partners in deploying targeted interventions. It is a privilege to be asked to chair the task force and I very much look forward to working with its members and stakeholders to help local communities to thrive."
The Mayor, as a former managing director of John Lewis, has already pledged to use his experience in the retail industry to help turn around ailing town centres.
"High streets are facing a great challenge to survive and unfortunately many town centres are a shadow of their former selves," he said.
"But we are determined to lead the way in tackling this issue. That may mean less emphasis on retail and a move towards a more diverse offer with community centres, leisure attractions, new homes, small businesses and public services to attract visitors back into our high streets.
"Jon has a wealth of experience and is the ideal person to head up our Regional Town Centre Task Force as we make the positive changes needed to create thriving, pleasant communities for the future."
The first five town centres to receive support from the WMCA were nominated by their local councils and will be supported by the local authority's own plans for regeneration.
The WMCA will act as a catalyst to help speed up those plans by unlocking land, using its devolved Housing and Land funds to open new development opportunities.
Further town centres will be eligible for a second wave of support later in the year, building on the experience from the first wave of centres.
West Midlands councils have also submitted bids to the Government's nationwide £675m Future High Streets Fund, which is in addition to the £20m made already made available by the WMCA.
The support for town centres is part of the WMCA's wider commitment to focus regeneration efforts and housing delivery on existing urban areas and brownfield land.