UK
WMCA event helps organisations learn more about workplace wellbeing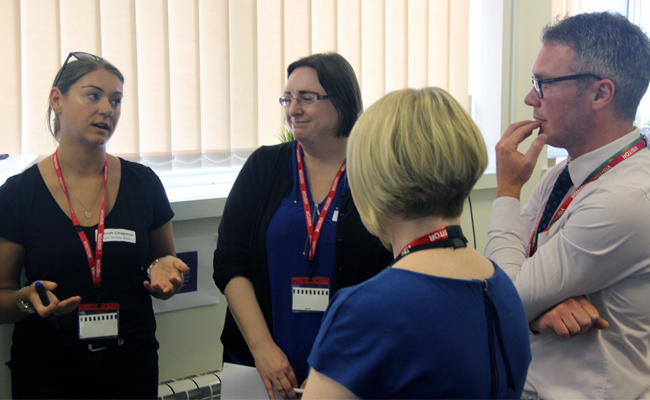 More than a dozen organisations came along to a showcase event for West Midlands Combined Authority's Thrive at Work programme.
This is aimed at growing healthier, happier workplaces and has already signed up 300 employers to its Workplace Well being Commitment.
That gives it a reach of some 200,000 individuals across the region and now the wider UK.
The event was for organisations not yet signed up, to find out how their employees and business could benefit from the programme and how to get involved.
There was a mix of public and private sector, local authorities, NHS organisations, a university, charity, training providers and Community Interest/Social Enterprise.
Hannah Chapman, who attended from Lloyds Bank's colleague strategy and experience team, said the showcase was an excellent opportunity to learn from others.
She said: "You can always learn from what other people are doing and it has been really valuable.
"I've heard today about different ways of looking at the costs of illness and sickness absence and bringing some of those figures to life in terms of what it means for the business and I'll be taking that back."
There are no costs involved in joining the Thrive at Work programme, application is free as is access to the online toolkit resource, accreditation and award.
More information is available via a brief leaflet here, a more detailed brochure about Thrive at Work or on the WMCA website.
Thrive at Work has been created in recognition of the need to ensure our working population is supported – designed to encourage and reward employers for improving the health and wellbeing offer to their employees.
Evidence suggests that organisations will see financial benefits from investing in employee health and wellbeing – through reduced sickness absence, lower staff turnover and better productivity and job satisfaction.
Poor mental health costs the UK economy between £74 billion and £99 billion a year, with workplace interventions showing a return to business of between £1.50 and £9 for every £1 invested[1].
The Thrive at Work Awards and Accreditation Programme gives employers a structure, and the tools and resources to improve the health and wellbeing of their employees and ultimately improve productivity and profit.
It is open to any organisation of any size in any location.