UK
Public backing for new powers to tackle anti-social behaviour on the buses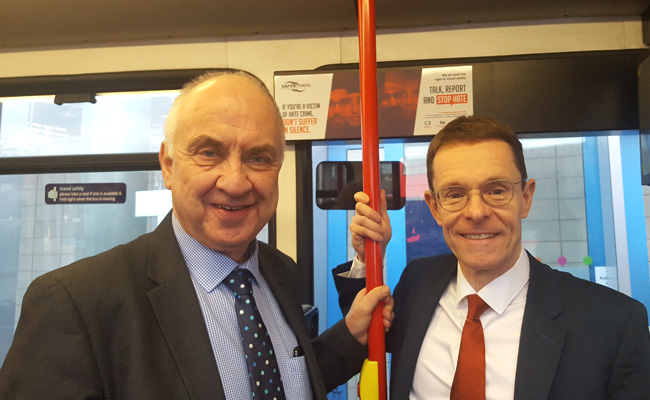 West Midlands PCC David Jamieson and Mayor of the West Midlands Andy Street
New laws to crack down on anti-social behaviour on the region's bus network have moved a step closer after getting overwhelming public support.
The proposed byelaws, which will give enforcement officers added powers to deal with a range of offences including drunkenness, unacceptable behaviour and smoking, were supported by more than 90% of people responding to a consultation.
They were strongly in favour of strengthening powers to deal with rowdy behaviour, intoxication with drink or drugs, smoking and vaping and loud music.
West Midlands Combined Authority (WMCA) leaders are now set to support an application to Government for the byelaws to be introduced on the region's buses.
Andy Street, the mayor of the West Midlands and who heads up the WMCA, said: "Our buses are incredibly safe, but no passenger should have to put up with anti-social behaviour.
"These byelaws will add to the range of tools available to our enforcement officers to help deal with and eradicate these problems. Fear of crime can deter people from using public transport, and that is why I am doing everything I can to stamp it out.
"Those found breaking the proposed byelaws and disrupting journeys for other passengers can expect a zero-tolerance approach."
The proposal for the new byelaws has been drawn up by Transport for West Midlands (TfWM), part of the WMCA, and are supported West Midlands Police and Crime Commissioner David Jamieson.
Mr Jamieson said: "The safer people feel on public transport, the more likely they are to use it. West Midlands Police are a key part of the Safer Travel Partnership.
"Public safety on transport is a top priority of mine and I have been campaigning for several years for extra powers. I am pleased that these proposals are set to go to government for their approval.
"As we have fewer officers than before, we need to ensure that they have the powers at their disposal to be as effective as possible. No-one should have to put up with anti-social behaviour and these new powers will help the police and other agencies tackle the issue."
More than 90% of those who took part in the consultation supported new byelaws to tackle unacceptable behaviour, drunkenness, drugs and being in an unfit state to travel, general safety, smoking and vaping, loud music and noise and loitering in bus stations.
Regular bus users were more likely to state they felt safe on board than those who did not use buses.
A total of 62% thought new byelaws would help tackle anti-social behaviour compared to just 12% who thought they would not. The remainder were undecided.
Latest figures show there is just one crime for every 107,157 journeys by bus in the West Midlands. Surveys by campaign group Transport Focus have shown passengers are mostly concerned over rowdy behaviour, feet on seats and loud music.
Similar byelaws are already in place on train and trams in the West Midlands and are being proposed as part of a tough stance to anti-social behaviour on public transport.
The will be enforced by the Safer Travel Partnership, a collaboration between West Midlands Police, TfWM and British Transport Police.
If approved by Government these would be the first set of bus byelaws in the UK.
The West Midlands Combined Authority are set to support an application for new bus byelaws at its board meeting next Friday (May 24).