World News
CPJ calls on India to ensure access to internet and communications services in Kashmir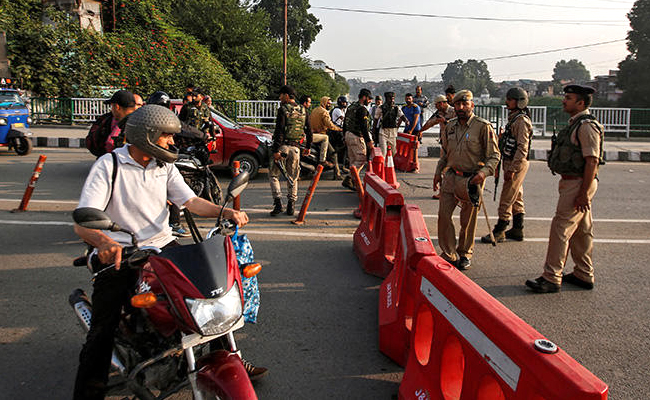 Indian security personnel stop people during restrictions in Srinagar, in Indian-controlled Jammu and Kashmir state, on August 5, 2019. Indian authorities that day blocked the internet and communications networks in the region. (Reuters/Danish Ismail)
New York, August 5, 2019–The Committee to Protect Journalists today expressed alarm at reports of a communication blackout and the arrest of a journalist in Indian-controlled Jammu and Kashmir state amid an escalating political crisis.
Earlier today, the Indian government announced that it would revoke a constitutional provision granting limited governing autonomy to Jammu and Kashmir, and introduced measures that would change Jammu and Kashmir's administrative status from a state to a union territory, essentially putting it under federal control, according to news reports. The order still needs approval of the ruling-party controlled Parliament, according to The Associated Press report.
The telecommunication blackout is related to the imposition of Section 144 of the Code of Criminal Procedure today across Srinagar, which prohibits an assembly of more than four persons in an area, according to news reports.
The internet disruption began yesterday, and today there were reports of a complete communication blackout, with broadband internet, postpaid mobile internet, mobile voice connections across different telecoms, and landline services all blocked, according to the internet advocacy group NetBlocks, newsreports, and an independent researcher who spoke with CPJ but wished to remain unnamed in order to protect a source. Nearly all communications appeared to be cut off after CPJ received a 3:18 a.m. Indian Standard Time message today from a Srinagar-based reporter who wished to remain anonymous for security concerns. The reporter told CPJ that all communication lines in Kashmir were being cut. Since then CPJ's efforts to contact journalists in Kashmir via messaging apps, emails, social media, and phone calls have almost all failed. Raqib Hameed Naik, reporter for the U.S.-based The Globe Post, was later able to send a message to CPJ from southern Kashmir via landline internet. He said newspapers were unable to distribute today's issue because of the curfew.
"A large-scale communication disruption at such a crucial time for Kashmir is an egregious violation of citizens' rights to information from a free press," said Aliya Iftikhar, senior researcher for CPJ's Asia program. "We call on Prime Minister Narendra Modi and his administration to guarantee that all communication blocks in Kashmir are lifted and that journalists are able to report freely. Communication blocks have no place in a democracy."
An email sent to the Home Ministry of India, which is responsible for the administration of Jammu and Kashmir, was not immediately answered.
In the past week, the Indian government sent in thousands of additional troops and evacuated tourists and closed schools, putting the region on edge, according to news reports. Several political leaders have been put under house arrest and there is a ban on public meetings or rallies, the administration said in an official order yesterday, according to the Hindustan Times. Business Insider reported that Indian state-owned telecommunications provider BSNL sold satellite phones to some journalists, which would allow them to evade the blackout.
On July 28, Qazi Shibli, a local journalist and editor of news website The Kashmiriyat, was arrested by Jammu and Kashmir police, according to news portal The Kashmir Walla. According to The Kashmir Walla, Shibli is being held for questioning in relation to tweets that included the leaking of an official order regarding the deployment of additional troops to the region. Yesterday, CPJ contacted Shibli's family, who expressed serious concerns about his health as he suffers from kidney stones. They told CPJ that police have not specified charges against the journalist. The same day CPJ reached out via WhatsApp to Inspector General of Police Swayam Prakash Pani, who promised to look into the matter. Due to the communication disruption, CPJ has been unable to contact Pani again or independently verify if Shibli is still under arrest.
India's government has recently stepped up detentions and other measures against the press in Kashmir. Kashmir Narrator reporter Aasif Sultan has been imprisoned in Jammu and Kashmir since August 2016, after he wrote a cover story about the slain militant Burhan Wani.