UK
Rights defenders call for wider alliance to build momentum on Kashmir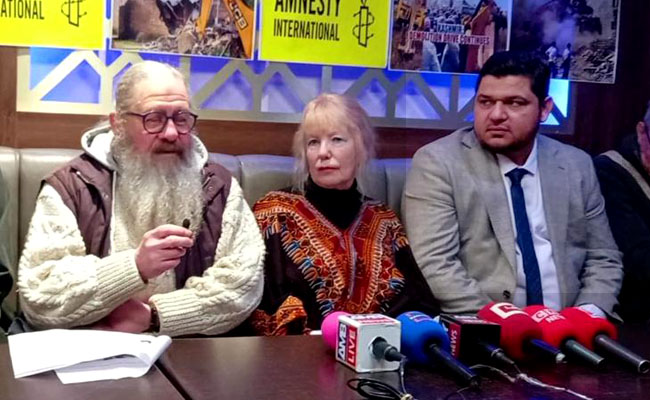 BIRMINGHAM – To build the profile, momentum and visibility of rights violations in Indian Illegally occupied Jammu and Kashmir (IIoJK), rights defenders have called on advocacy groups and activists to join together in order to overcome the reluctance of some of the media and some areas of government.
Addressing a news briefing in Birmingham, John Dolan of Bournville Amnesty UK , referred the use of JCB to illegally bulldoze homes and other infrastructure in IIoJK, wondered how the JCB owner, a member of British House of Lords, "was silent" on his machinery which was being used to bulldoze houses in IIoJK."
"JCB is owned by Lord Bamford… he is there to represent interests of people… he is a public figure… The point is he is providing the machinery," Dolan said.
Dolan was addressing international media in the UK alongside other human rights defenders and leadership of Tehreek-e-Kashmir UK.
"This is horrible to have your home demolished against your will, without warning," Dolan said, urging 10 million members of Amnesty around the world to speak up against India's high handedness in IIoJK.
The special media briefing on illegal and inhuman demotion of houses and other infrastructure by India in IIoJK was hosted by Fahim Kayani, president of Tehreek-e-Kashmir UK.
Reading the Amnesty's latest report on IIoJK, Astrid Laich, Secretary of Bourneville branch of Amnesty UK, said: "No one should be made homeless or vulnerable to other human rights violations because of evictions."
Amnesty released its report "India: Demolitions in Kashmir must be immediately halted and those affected compensated" last month.
"The district municipal corporation and state revenue authorities in collaboration with the police demolished the homes and properties of residents in at least in four districts of Srinagar, Budgam, Anantnag and Baramulla in Jammu and Kashmir (IIoJK) between 4 to 5 February 2023. According to media reports, several residents allege that they did not receive any prior notices from the administration. Many of them also allege that they had documents proving ownership of their properties, but the authorities did not give them an opportunity to present their claims before running bulldozers over their homes," she said.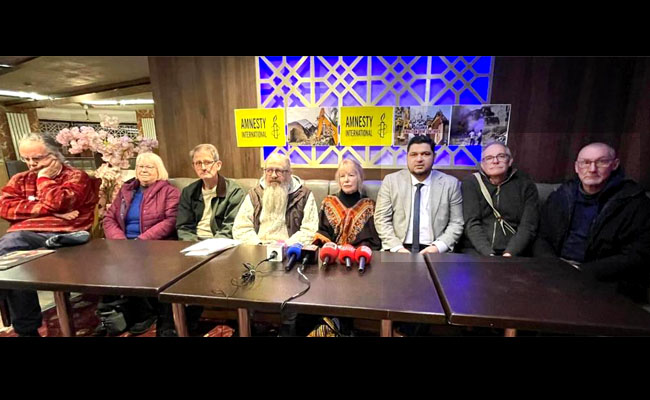 "The Indian authorities must immediately halt the demolition drive and ensure that safeguards against forced evictions as outlined in international human rights standards are put in place before any evictions are carried out. They must offer adequate compensation to all those affected without discrimination, ensure that victims of forced evictions have access to effective remedy, and those responsible are held to account," Amnesty said in its report.
Other rights defenders and Amnesty representatives including Martin Bate, Malcolm Bruce. Ian McGarr and Bri dget McGarr attended the media briefing.
Stuart Richardson ,Secretary Stop the War Coalition Birmingham , pointed out how British media was ignoring the Kashmir issue.
"It is very characteristic of British media to completely ignore Kashmir and to say nothing about human rights violations and colonial attitude of Indian state in Kashmir," Richardson said, slamming double standards of British media.
Dolan agreed with Richardson that media was not paying due attention to human rights excesses.
Fahim Kayani, Tehreek-e-Kashmir UK leader, thanked Amnesty for its efforts and releasing the report on illegal demolition of houses in IIoJK.
"Amnesty now must work on illegal demographic changes in IIoJK committed by India. These Indian fascist tactics are paving way for ethnic cleansing of Muslims and Kashmiris," he said, urging Amnesty to the issue of half-widows in IIoJK.
Half-widows are those Kashmiri married women whose husbands were illegally abducted by occupying Indian forces and their whereabouts are not known.
"These women are known as half-widows because they don't know whether their husbands are alive or dead," Kayani said.