UK
Indian Constitution a Discredited Instrument of a Failed State – Sikhs and Kashmiris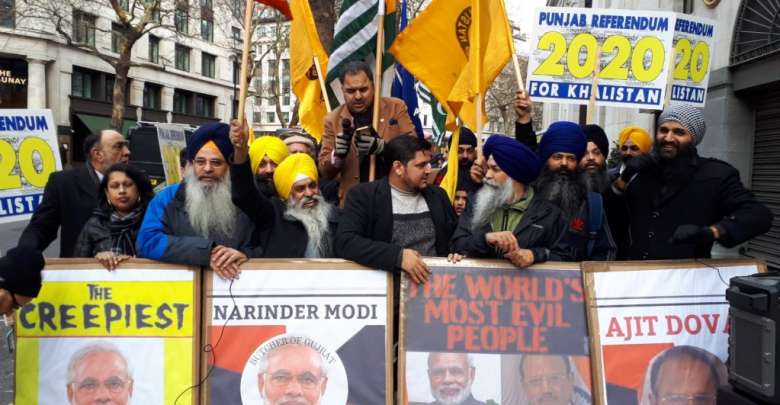 London, 26 January 2019: Leading Sikh and Kashmiri organisations came together to protest outside the Indian High Commission here and jointly delivered a robust message to Indian diplomats and journalists; their peoples will not rest until their homelands are liberated and genocide perpetrators are punished. Hundreds of thousands of people have been killed over recent decades in a 'dirty war' waged by Hindutva forces to quell legitimate self-determination movements in Punjab and Kashmir.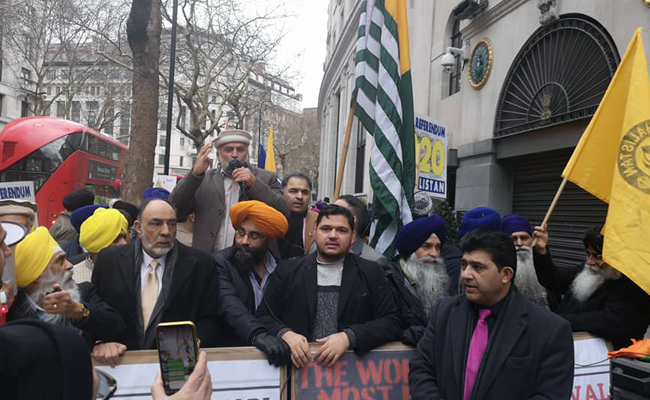 As Indians marked their Republic Day to commemorate the adoption of their constitution in 1950, the protestors roundly condemned that document as an attempt to legalise the unlawful suppression of fundamental human rights enshrined in international law.  Speaking to the international media at the event, leaders of dispora groups laid bare India's appalling rights record.
Amrik Singh Sahota OBE (Council of Khalistan) said India has emerged as a serial violator of those rights, including the right of self-determination under Article 1 of the 1966 Covenants, which it formally rejects. Joga Singh (World Sikh Parliament) castigated the constitution – which outrageously categorises in Article 25B Sikhs as Hindus – as a discredited and divisive document that had never been accepted by the Sikhs. Fahim Kiyani (Tehreek e Kashmir) said Kashmir has been declared a disputed territory by the UN and so there was no question of the Indians having any right to impose any constitution on that territory.
Chaudhry Tariq Mahmood and Raja Sikander Khan demanded international intervention to stop the daily killings and other atrocities of innocent Kashmiris by Indian forces. Recent reports from the UN's Hugh Commission on Human Rights and the UK's All Party Kashmir Group has exposed the clear Indian use of brutality, killing and maiming unarmed civilians, as a means of suppressing dissent to Indian rule.
Dupinderjeet Singh (Sikhs for Justice) called for the establishment of an international criminal tribunal to punish those that had planned and directed the genocide of the Sikhs in 1984 and highlighted the fact that India's signature of the 1948 Genocide Convention has been deliberately undermined by the refusal of successive governments to pass legislation bringing its effect in to Indian law. India's High Court itself recently confirmed that it has no powers to punish genocide perpetrators due to this bizarre yet 'convenient' legal position.
Asked by Indian journalist Loveena Tandon (India Today) why Kashmiris and Sikhs were working together, Zafar Ahmed Quereshi (Kashmir Campaign Global) said that they share a common goal of freedom and are opposed by a common aggressor. When she asked whether these movements have popular support, Ranjit Singh said it was time that the Indian media considered why genocide and other systematic suppressive tactics were being used if there was no popular support for these freedom struggles. And why was the Indian side so opposed to referenda in these regions if it was so sure of its position?
The protestors expressed consensus that the respect for international law was the key to conflict resolution in Punjab, Kashmir and other regions such as Nagaland, Assam and Manipur. They said that a flawed constitution was merely a shield for unlawful, criminal behaviour by generations of Indian political and military leaders. It was time for international norms and the sovereign rights of the people to determine the destiny of those territories, not the repugnant colonialism of a failed state.