UK
Renowned British surgeon Professor Philip Ransley calls on the High Commissioner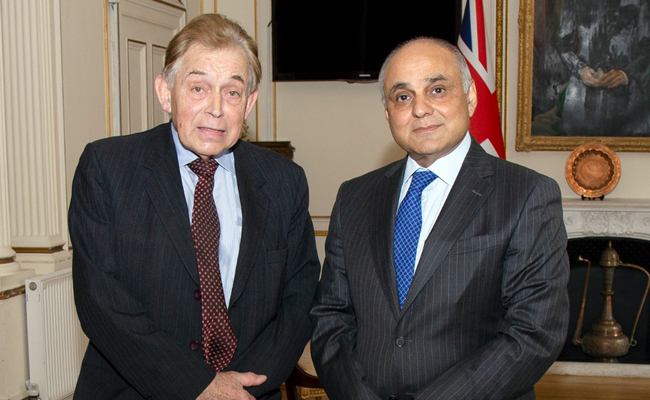 Renowned British surgeon Professor Philip Ransley called on H.E. Syed Ibne Abbas, the High Commissioner at the Pakistan High Commission London today.
Professor Ransley's relationship with Pakistan goes back 25 years which is the time since when he has been visiting the Sindh Institute of Urology and Transplantation popularly known at SIUT which is a specialized care medical institution based in Karachi providing treatment to millions of patients suffering from kidney, liver  and urological related cancer ailments. He has also been delivering lectures and training young surgeons.
Professor Ransley was instrumental in setting up the pediatric urology unit at SIUT as recognized specialty.
In 2010 the Government of Pakistan decorated him with the honor of Sitara-e-Imtiaz in recognition to his outstanding services in the field of surgery and education of medical sciences on account of his regular visits to Pakistan.
The High Commissioner appreciated the services of Professor Ransley for the people of Pakistan and his contributions to this effect in the field of medicine through which thousands of Pakistani citizens have benefited over successive years. He also discussed and explored means to further collaboration in the field of medical science and to benefit from his expertise. The High Commissioner assured Professor Ransley of all possible support and facilitation towards this end.
Professor Ransley is an expert in the field of pediatric urology and has served as head of the pediatric urology unit of Great Ormon Street Hospital of London where he worked for 30 years. He has also been President of the European Society of Pediatric Urology and President of British Association of Urology. With over hundred medical papers to his credit he authored many chapters in the books pediatric surgery. He was made Honorary Fellow of American Society of Surgeons and Royal College of Surgeons of Edinburgh. In 2001 Professor Ransley was conferred the highest honor by American Academy of Pediatric Urologist.