World News
Maqbool Bhat's Sacrifices Will Not Go in Vain: Dr. Fai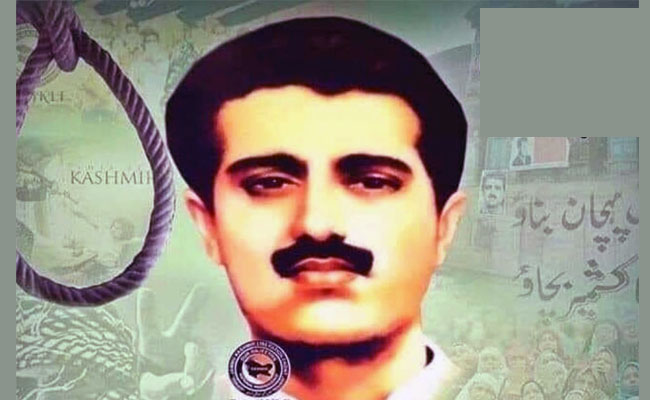 Washington, DC. February 11, 2023 "The children of oppressors are provided with all the luxuries and comfort of the world, but the children of resistance leaders are not attracted to these kinds of luxuries and comfort. They get satisfaction from struggling against the system of oppression." Shaheed Maqbool Bhat
Dr Ghulam Nabi Fai, Chairman, 'World Forum for Peace & Justice', paid rich homage to visionary Kashmiri leader: Maqbool Butt on the 39th anniversary of his martyrdom, adding that he was undoubtedly a selfless and an inspirational soul. Fai urged everybody to take a leaf from the long history of Kashmir which is full of trials and tribulations. Those who contemplate on the past will ultimately come closer to achieve their objective – the freedom for the people of the State of Jammu & Kashmir.
Dr. Fai said that Maqbool Bhat proved to be prophetic what Sunil Gupta, wrote in his book, Black Warrant: Confession of a Tihar Jailer that "As a last wish, Maqbool Bhat was allowed to leave a will. A Sikh magistrate was called a day before the hanging. Bhatt got his will recorded in English. He exerted, 'There will be many Maqbool Bhats that will come and go, but the freedom struggle in Kashmir should continue'." Today, Fai stressed, the whole nation of Kashmir is following the footsteps of Maqbool Bhat for the liberation of their motherland: Jammu & Kashmir.
Sunil Gupta also wrote that an Intelligence Bureau officer who had interrogated Bhat after his arrest in 1966 for the murder of the police head constable, said almost the entire interrogation team was impressed by "his clarity of thought, manner of speech and knowledge of various political ideologies, including Maoism." He added that Maqbool Bhat has said: "I want a fair trial for my people and myself. But I don't expect to get it in this subcontinent. "
Fai underscored that the mission of Maqbool Bhat is alive. Today, he is an inspiration to millions of Kashmiris and those striving for human rights, human dignity and right to self-determination.
Sardar Zarif Khan, Secretary General, Kashmir American Welfare Association (KAWA) said that Maqbool Bhat gave his life for the cause because he believed in it with all sincerity and honesty. We must pay rich tributes to the memory of this martyr. Zarif added that the killings of innocent civilians in Indian occupied Kashmir must shake the conscience of all peace-loving people. He condemned the efforts to muzzle the press and further expressed need to restore the right to assemble and freedom of expression in Indian occupied Kashmir
The sacrifices of Shaheed Maqbool Bhat will never be wasted. The blood of Kashmiri martyrs brings the goal for freedom and justice nearer, Zarif highlighted.
Shoaib Irshad, Joint Secretary of KAWA said that Maqbool Bhat was certainly a charismatic leader who gave his today for the betterment of tomorrow; and that his dastardly death will inspire living Kashmiris for the ages.
Shoaib emphasized that the brutalities of Indian government cannot and should not go unnoticed. It is the responsibility of the Kashmiri diaspora to be the voice of voiceless people in the corridors of powers all over the world.
At the conclusion of the event, it was demanded that the Government of India return the mortal remains of Shaheed Maqbool Bhat and Shaheed Afzal Guru to their relatives in Kashmir. It has been a sacrilege to have kept them in India for 39 & 10 callous years respectively.
Dr. Fai can be reached at: WhatsApp: 1-202-607-6435. Or. gnfai2003@yahoo.com www.Kashmirawareness.org